Rebecca Black Overtakes Justin Bieber As Most Hated Person on YouTube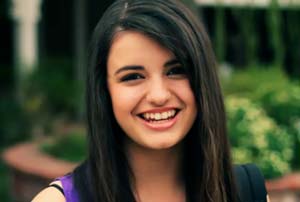 Rebecca Black has overtaken Justin Bieber as the most disliked person on YouTube, based on approximately 1.23 million "dislikes" of her infamous "Friday" video, reveals ReadWriteWeb.
ReadWriteWeb analyzed the 150 most-viewed videos on YouTube and found "[Justin] Bieber stars in five of the top six most disliked videos on the site."
Bieber's music video for "Baby" had led for quite a while. With over 500 million views, it ranks as the most watched video in the site's history, but its number of "dislikes" (~1.17 million) is nearly twice the number of "likes" (~580,000).
However, Black's "Friday" crushes that ratio. With around 66 million views, only 148,000 peopled "liked" the video, compared with nearly 1.23 million dislikes.
In general, YouTube voting heavily favors likes, not dislikes. But Black's "Friday" is a complete reversal of that trend. In short, for every 10 people who see the video, only one person likes it. And that only counts people who vote—not the ones who immediately close the browser after hearing breakfast-cereal lyrics.
Got news tips for Paste? Email news@pastemagazine.com.
Others Tagged With