Soundgarden: Live On I-5
[A&M Records]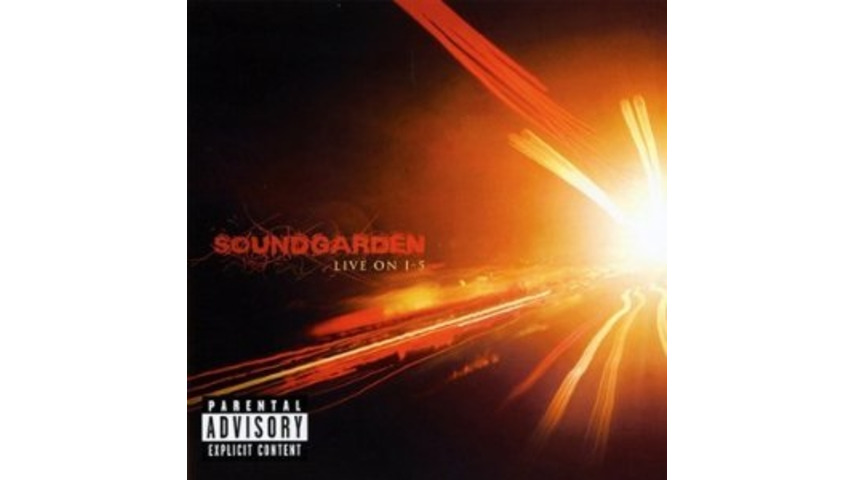 Soundgarden's Live On I-5 was recorded on the West Coast leg of the band's 1996 tour. The title alludes to the arterial stretch of highway that connects the various nights the performances are pulled from. If it was all one show, an alt rock time capsule that captured their ironic peak during grunge's slow slide from Cobain's death towards obscurity, it would be an interesting trip back to our collective musical past. But it isn't. It's pretty much a greatest hits album, which conceptually blows an opportunity right off the bat.
Sonically, it's classic Soundgarden. You get what you expect: power-chord progressions, hard-hitting drums and Chris Cornell singing his heart out to the delight of a flannel-clad crowd, and the album does earns a few of their raucous cheers. "Burden in My Hand" supports a long-held and unfounded theory that the best song on early-to mid-'90s alt rock records is Track 7 a statistically relevant percentage of the time. Tracks 11-13, from the same Oakland set, create nearly 19 contiguous minutes that give a glimpse of what it might be like to spend a night with Soundgarden at their apex. The album also offers a chance to hear "Black Hole Sun" performed live in Seattle, a dream my 12-year-old self might have had. Not in 1996, but perhaps at some point, possibly.
For the most part, the song-to-song shift between performances isn't too jarring, save for the times they let the crowd rip and roar at the end of a clear favorite, making a seamless cut impossible. They clearly try to match tempo and intention from one track to the next, trying to fake the natural three-act structure of a summer night at a rock show, from wide-eyed excitement through booze-fueled frenzy to worn-out, end of the set denouement. And that raises the painfully obvious question, "Why not just make an album out of one concert?"
The tricky thing is that there aren't particular low points that make it bad, aside from one of the album's two covers, a sloppy 2:10 version of "Helter Skelter." It's that it comes across more like a business decision than it does an old live show a forgotten friend wants us to hear. The occasional free-fingered guitar riffs and run-on drums feel put on, even though they're not. The crowd noise tastes like a garnish.
Others Tagged With