Steve Earle Releases Songs to Support Worker Unions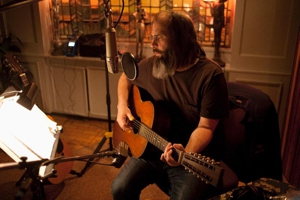 Grammy-winning artist Steve Earle has released songs in support of public worker unions in Wisconsin and their protests.
The songs to be released are "Harlan Man" and "The Mountain", both of which appeared on Earle's 1999 bluegrass album, The Mountain. Both tracks feature the life of a union miner, with "Harlan Man" lyrics thoroughly depicting union sentiments: "I'm a union man, just like my daddy and all my kin, I took a union stand, no matter what the company said, I got me two good hands, and just as long as I'm able I won't give in."
All profits from the special two-track digital single will benefit The America Votes Labor Unity Fund through SaveWorkers.org.
"Unions are a fundamental component of Democracy throughout the free world. All eyes are on Wisconsin," stated Earle.
The America Votes Labor Unity Fund is an organization that contributes to activist campaigns in 11 states: Florida, Indiana, Maine, Michigan, Missouri, Minnesota, New Hampshire, New Jersey, Pennsylvania, Ohio, and Wisconsin. The organization also accepts donations from labor organizations and individuals. To learn more visit the Save Workers website.
In addition to releasing the special 2-track digital single, Earle will release his 14th studio album later this spring. I'll Never Get Out Of This World Alive will be out via New West Records on Apr. 26. Earle will also release his debut novel, also titled I'll Never Get Out of This World Alive through Houghton Mifflin Harcourt on May 12. As if he was not busy enough, Earle will be returning to HBO's original series Treme in his role of Harley.
Got news tips for Paste? Email news@pastemagazine.com.
Others Tagged With