SXSW Film: Otis Under Sky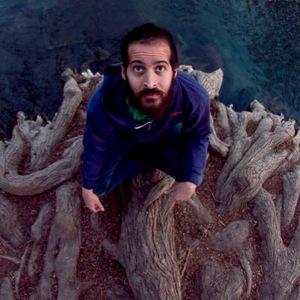 Otis is an introspective blogger who longs for connection through various forms of art. Ursula, whose loneliness is even more apparent, spends her days waiting for her girlfriend to return from a trip abroad. Against a backdrop of some of Austin's most picturesque landscapes, the two characters (played by spoken word poet/expert Twitterer Anis Mojgani and Neo-Futurist cast member Roberta Colindrez) forge an intimate friendship in writer/director/producer Anlo Sepulveda's first feature-length film, Otis Under Sky.
Set to premiere at SXSW March 13, the film "deals a lot with ideas of people trying to connect with people in an honest way," says Mojgani. He believes Sepulveda, whose unscripted, organic filmmaking process recalls many attributes of the mumblecore movement, relies on this sincerity because "it's a lot more connected to the way that people actually talk and interact with each other."
Many scenes in the film were based on a plot objective communicated by Sepulveda, who then allowed Mojgani and Colindrez to shape the dialogue through improvisation. Others required Mojgani to create a video blog that dealt with a specific idea (examples from the film include the idea of detachment and the Buddhist idea of death and reincarnation).
Either scenario "calls for acting that is kind of very much just sort of existing in a place," the two-time National Poetry Slam Champion says. Still, he's quick to point out that hard work and dedication are just as essential to the creative process as a natural flow of ideas. "It's not just like, 'Oh, what happens happens.'" Mojgani says. "It needs to ride a balance of allowing the art to develop as an organic thing, but also taking the reins and shaping it to what it is that you want it to be doing."
Complications that ranged from unfriendly encounters with the police to harassment from a drunk couple attempting to supersede Sepulveda as director caused some scenes to develop more slowly than others. Mojgani describes shooting what was supposed to be a quick, simple scene outside downtown Austin music club Antone's as "kind of surreal" after an inebriated pair showed up and started echoing Sepulveda's cues. "They started serving as assistant directors through no asking of Anlo," Mojgani says. Mistaking him for a bystander, the woman eventually began berating Mojgani, asking him to step aside so the crew could "get the shot." After clarifying that he was the actor in the shot, Mojgani says the woman snapped back with, "Uh, you're in this movie? I don't think so."
Not all of the crew's interactions with the public were so problematic. Several scenes were shot on Austin's Capital Metro bus system and, while Mojgani says he felt slightly uncomfortable acting on a bus, the bystanders and bus drivers were very cooperative. "Some of them got really into it and were really pumped and excited and happy for us," he says.
Mojgani says "doing so many weird things in public" was one of the most challenging aspects of acting in the film. The camera accompanied him as he explored nearly every inch of Austin, from dried up creek beds to the crowded city streets. He remembers feeling "sort of awkward and embarrassed" the second day of filming when Sepulveda asked him to "just roll up onto one of the main drags of Austin and start building this public art installation on the ground."
Embarrassment aside, Mojgani says he is eager to share something that is very different from what he's done in the past. He received his M.F.A. in performing arts nearly 10 years ago, but this is his first role in a feature film. He hopes the attention the film receives and the connections he makes at SXSW will allow him to explore more projects that involve film. "I figured that my passion for film would return me to it at some point," he says. "I'm excited by the prospect of going out and shooting some stuff over this upcoming year."
Otis Under Sky's cast and crew have devoted the last three years to shooting, developing, and editing the film. Mojgani says he's "really happy and proud and excited" about its upcoming SXSW screenings, which include the world premiere at the Rollins Theatre this Sunday, a second screening at the West Gate Movie Theater (March 15) and its final showing at the historic Paramount Theatre (March 18) in downtown Austin. "I hope that [audiences] will walk away from it feeling happy," Mojgani says, "feeling light, feeling more at peace inside of themselves and more connected to the people around them."
Trailer:
Otis Under Sky Trailer from Anlo Sepulveda on Vimeo.
Others Tagged With