The Boondock Saints Director Considering Boondock Videogame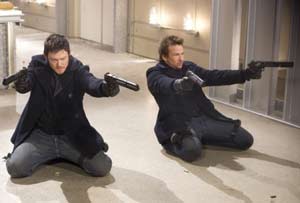 Troy Duffy, director of the cult-classic The Boondock Saints, announced in to fans in Austin that "We're thinking of making a videogame out of Boondock," according to The Hollywood Reporter. Duffy added, ""They had already built part of the game and I got to play it."
After The Boondock Saints received two theatrical releases, this seems the next logical step. Duffy considers the "gritty and rough look for the game world's environments and to allow fans be able to play as any of their favorite characters" as the most important aspects for the game.
"The Boondock fan base wants to have a beer with the MacManus brothers and then pick up a weapon and fight," says Duffy. "With a videogame you can increase that kind of intimacy, where they can actually be the brothers and hang out and do some shooting and have some fun. That communal aspect of the game is very important to me."
Duffy also says the game won't arrive for nearly a year after he greenlights the videogame.
Della Rocco, who played Rocco in both films, says, "I think this game's a great idea…It seems like they make a lot of games out of movies, including older films like Scarface."
Got news tips for Paste? Email news@pastemagazine.com.
Others Tagged With