The Digital Dilettante: Four Apps to Synchronize Your Life
Technology that spares you from the tedium of doing things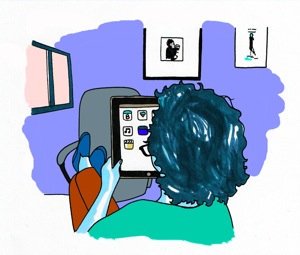 The Digital Dilettante cannot be bothered with such trivialities as ensuring that his copy of The Essential P.G. Wodehouse is available to him irrespective of whether he desires to peruse on his Kindle, iPhone or iPad. Similarly, what right does technology have to muddle the mind with folderol concerning which device houses my most important mental perambulations, recipes for the perfect Aviation or addresses for the finest haberdashers in the French Quarter? No, the Digital Dilettante requires a valet to keep such banal task far from thought. As always and forever, let others figure out how to do this, and simply make it so.
The following apps make it so:
Kindle
Whether in the Digital Dilettante's pied-à-terre or in the country home, we have both iPads and Kindles. No need to have your valet cart them from place to place. Instead, ensure that, irrespective of locale or device, you will always be on the most recently read page of The Complete Evelyn Waugh by placing copies on each of your devices; it's nearly as effective as having your butler turn the pages for your—nearly.
Instapaper
While not something he likes to admit, there are times when the D. Dilettante finds himself goggling a computer screen—typically when reviewing bank statements having to do with disbursements from the trust fund Father insists upon asserting his dominance over. On these regrettable occasions, we frequently find ourselves paddling (a gentleman does not "surf") to less headache-inducing online locales; perhaps an article on this year's white Burgundies on the Decanter weblog (the Meursaults do look very drinkable).
Hunching over a computer to read anything of substance is about as civilized as wearing an Hermes tie with an Hugo Boss suit. Thus, the D. Dilettante turns to the cheekily named Instapaper for succor. Upon having your valet enroll you for an Instapaper account, and having him install something called a "bookmarklet" on your browser(s), any article happened upon online that you desire to read in a more hospitable manner is gently, but firmly dispatched to your iPad, iPhone, and even Kindle simply by having your butler click the "read later" bookmarklet for you. One particularly charming element of Instapaper is that it removes such aesthetic offenses as online ads and anything in the Arial font, and reformats the article in a vastly more read-able manner.
Simplenote / Notational Velocity
How many times have you been reclining mid-morning on the fainting couch in your drawing room contemplating the evening cocktails when you come up with an inspired ingredient? Countless, undoubtedly. This past Wednesday morning, for instance, it occurred to the Digital D. that in addition of a sixth Tasmanian berry, a three-finger pinch of Shinkai deep sea salt would bring that elusive grace note to that afternoon's Meadow Martini. Had the D.D. not jotted this down in the Simplenote application on our iPad it never would have synchronized with the help's computer via their Notational Velocity app, and humanity would have been the poorer. (Communicating with the help via synchronization between the Simplenote app on the DD's iPad/iPhone and the Notational Velocity app on the help's computer is, of course, the Dig. D.'s preferred means of communication; it's so much less… "talky.").
We do love the Notational Velocity application; it represents so much of The D. Dilettante's ethos—essentially, do as little work as humanly possible. To wit, NV foregoes such tedium as naming or saving (just the thought is cramping my valet's fingers). Your aide simply begins typing, and everything else happens for you; no need to title or save —much like the Digital D., it simply exists. As above, once The Dilettante's thoughts have been made manifest in NV, they are disseminated to both the butler and the valet who hop to via their presence on the help's coordinated Simplenote apps on their iPhones or on the Simplenote website on their computers.
We certainly are tilting in a most pleasant direction. The Dilettante looks very favorably on these developments that allow him to continue to accomplish more while doing absolutely as little as possible.
p= Dictated, but not read.
Others Tagged With