Titus Andronicus Pays Tribute to New Jersey in Forthcoming Video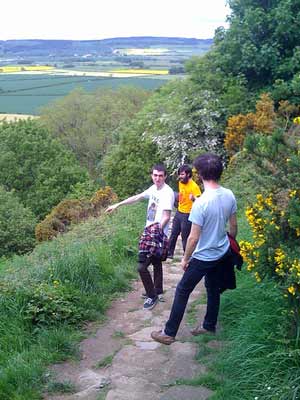 Titus Andronics, the punk rockers who created one of our top 50 albums of 2010, recently shot the video for "No Future Part Three: Escape From No Future" in different New Jersey locations with the help of rising music-video auteur/writer/radio host, Tom Scharpling.
To capture New Jersey's "diverse landscape in a new light," writes The Wall Street Journal, Scharpling took the band around the state over the course of a day, shooting in the Pine Barrens, a suburban front yard, the Asbury Park boardwalk, the basement of a college row house in New Brunswick and finally on the roof of a Jersey City bar.
It's a strange dichotomy that exists within those who hail from New Jersey. They both love and hate the place, can't wait to leave but always treasure it. Titus Andronicus frontman Patrick Stickles sums it up well: "The people of Jersey have a funny relationship to it… Everybody wants to get out, like in [Bruce Springteen's] 'Born to Run': 'It's a death trap, it's a suicide rap/We gotta get out.' And then we tried to make that into the state song! Nowhere else but New Jersey does that make any sense."
Scharpling is a fellow New Jerseyite, which makes him a perfect candidate to visually showcase the state through a band that auditorily does so. Scharpling may still be relatively unknown to some, but he's been involved with numerous projects over the years. He's hosted a freeform radio call-in program The Best Show on WFMU and worked as a writer for Tom Goes to the Mayor, Tim and Eric Awesome Show, Great Job! and Monk, where he was also an executive producer. The Onion also hired him to handle editorial duties.
But now he's attracting attention for his direction of music videos, most recently for The New Pornographers' star-studded "Moves" video. It's a hard one to top, but this Titus clip certainly sounds promising.
Got news tips for Paste? Email news@pastemagazine.com.
Others Tagged With