Typhoon: A New Kind of House
[Tender Loving Empire]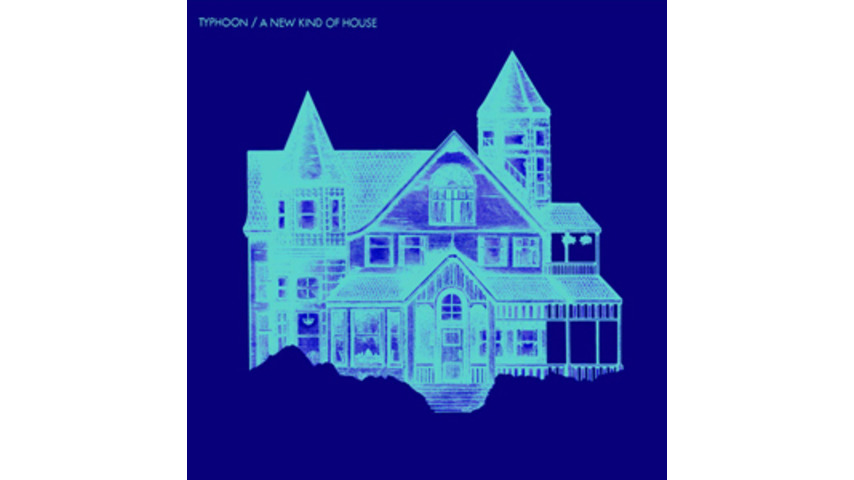 Music critics throw around adjectives like "orchestral" and "expansive" all the time these days. But here's a band that actually deserves such labels. Portland's Typhoon is an indie rock geek's dream: a dynamic 12-piece with a seemingly unending reservoir of energy, emotive vocals, arpeggiated guitars, horns, multiple drum kits, strings—there are so many sonic details crammed into the five tracks on A New Kind of House, the band's second official release, that you might need two pairs of headphones to properly connect the dots.
But Typhoon isn't treading in the shadows of other literally gigantic bands. Unlike Broken Social Scene (who basically use their ridiculously large line-up as an excuse to hang out with their buddies) and Arcade Fire (whose live shows feature performers banging on each other's heads with drum sticks), Typhoon's gargantuan line-up is an integral part of what makes them so damn good. Opener "The Honest Truth" blares through the gate with a lightly distorted acoustic guitar strum and mariachi horns supporting a cathartic, warbly vocal on the verge of explosion. It's a tense, barnburner folk tune and, in its initially straightforward thrust, feels sonically kin to Conor Oberst in his Cassadaga phase. But the restraint is short-lived: two drum kits clang counter-rhythms in opposite speakers; more trumpets share secrets in a call-and-response salvo; a divine emo choir of backing vocalists harmonize in full-blooded unison, a gang of warriors in an airstrike of melody.
"Summer Home" could be one of the young year's finest songs. Vocals overlap in tearjerking mazes of harmony, drawing images of fading youth and lingering regret, clinging to fragile chords like a frightened child would his father's hand. Electric guitars ping; choirs cry out in waves of natural reverb, as if singing from the hallways of an empty house; percussion trips over itself, tongue-tied and at a loss for words.
At five tracks and 22 minutes, A New Kind of House floats away before it fully blooms. But it's an otherworldly tease. Ladies and gentlemen, meet your new critical darlings.