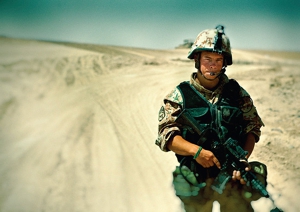 Director: Mahamat Saleh Haroun
Writer: Kasper Torsting (idea)
Cinematographer: Lars Skree
Studio/Running Time: Lorber Films/105 min.
While it may not be well-known here, the United States isn't the only Western nation to send troops into Afghanistan. Denmark and Britain also maintain stations against the Taliban in the area, and Armadillo sets out to show what it's like for soldiers to go through a single six-month tour of duty there—no more and no less. The film's title comes from the name of a forward-operating base in an area that sees heavy activity from the Taliban, and a platoon of mostly first-time soldiers allowed the film's director and cinematographer to stay with them through their entire rotation.
In many ways a sort of Danish counterpart to Restrepo, Armadillo differs from the American documentary primarily through its form. While Restrepo is intent on interpreting the events it depicts through confessional-style interviews and voice-over from soldiers, Armadillo is strictly a work of cinema verite. The hands-off approach lends the film complexity and ambiguity, not to mention giving the events it depicts a certain level of respect. Although there are obviously directorial choices being made as far as editing goes and what they chose to film, in general it's a much less forced picture than what we've seen before.
The film's schematic structure gives us time to adjust to the insanity of the situation these soldiers are stuck in. Like in a Frederick Wiseman movie, much of the picture focuses on the characters' boredom and their frustration with never knowing if they're making any sort of difference. Part of what's particularly smart about Armadillo is that for once it's not a movie that's all highs and lows, and by trying to capture the whole experience of these soldiers' tour, when those moments of life-altering drama occur, they stand out the way they should.
This particularly comes into play towards the end of the picture, where an encounter with five Taliban soldiers led to a controversy in Denmark. Difficult questions are asked about the ethics of what occurred here, and the film has the maturity to simply show us as best it can what happened without trying to decide whether it was in fact right or wrong.
Armadillo isn't as exciting as some other documentaries about war, let alone fictional features, but it feels less exploitative than other entries in the genre. It also features some of the best photography a film of this kind has ever had, often using evocative compositions to tell its story—even while the filmmakers and soldiers are risking their lives. You may be sick of war films about Afghanistan by now, but Armadillo's boldly objective take on the situation shouldn't be missed.
Watch the trailer:

Others Tagged With