Best of What's Next: MilkDrive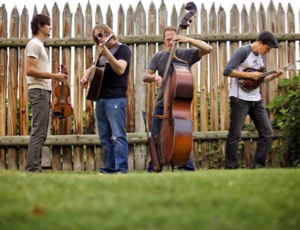 Hometown: Austin
Members: Brian Beken, Noah Jeffries, Dennis Ludiker, Matt Mefford
Album: Road from Home
For Fans Of: David Grisman, Punch Brothers, Nickel Creek
Judging by the crowds who come to hear them, it's difficult to consider MilkDrive as a work in progress.
"It was originally an outlet for a bunch of instrumentals and turned into, now, a monster," says mandolin player Dennis Ludiker. "And we still don't quite know what it's going to be, yet."
That "monster" is what can be heard on the band's first studio album Road from Home. Barely a year ago, while impressing audiences with their inspiring, bluegrass-based jams penned by the band's guitarist Noah Jeffries, the guys listened to the requests of friends and critics and began to add real songs with vocals to their performances. It's a journey that inspired the album's title.
"It's a lyric from the first track 'Dry Creek Inn'," says lead vocalist and fiddle player Brian Beken. "We felt it was a fitting title because we've kind of deviated from where we started—home, per say."
But they readily admit to some trepidation about the change. "Especially those of us who had to sing," says Beken, who has taken his duty as a welcome challenge, having never fronted on vocals. "It gets nerve wracking at times." But when asked what the most fun thing is about singing his answer is indicative of what they all expect of themselves. "You're uncomfortable. For some reason, getting outside of your comfort zone—it's fun. Once you do that you really see what you're made of."
It's those kinds of challenges that have kept the MilkDrive players at the top of their game, a familiar position since the three of them met as competing performers during their pre-teen years in the Northwest. Ludiker and Jeffries come from Washington and Idaho respectively, but Beken would come up from Texas to compete.
"We all grew up playing old-time fiddle music," says Ludiker. "We all went to fiddle contests." The band's name comes from a street they hung out on as kids. "Jamming, getting into trouble, things like that," says Jeffries. Matt Mefford from Wisconsin rounds out the all-acoustic quartet on double bass.
For songs, the band has looked back to Beck and Jeff Buckley but also borrowed from their contemporaries The Greencards. "Kym Warner was nice enough to let us do a couple of the songs that they had been working on," says Ludiker. MilkDrive's experience with legendary producer Bill VornDick has already led to discussions of a second album, also to be produced by VornDick. "Everything we've loved, he's produced," says Ludiker.
It's a huge list but to name a few: Bob Dylan, Alison Krauss, James Taylor, Bela Fleck, Lucinda Williams, Gillian Welch. "He's a musician's guy," adds Beken. "He knows what's up."
While the band may not fit in a specific genre, they easily fall into the catch-all pool of Americana because of the songs. But the virtuosity of each member's soloing has attracted fans of pop and even metal, something not lost on these homegrown bluegrass boys whose personal influences range from David Grisman to Dirty Ol' Bastard to Nine Inch Nails.
"People are starting to notice a little bit of that," proudly declares Ludiker. "But we kind of mesh it into this all-on-acoustic-instruments sound. You've got to get it from everywhere. It's the most adventurous we've ever gotten with our music."
And for the ever-changing monster you've created? "We're going to be constantly moving until we can't."
Others Tagged With