Best of What's Next: Royal Thunder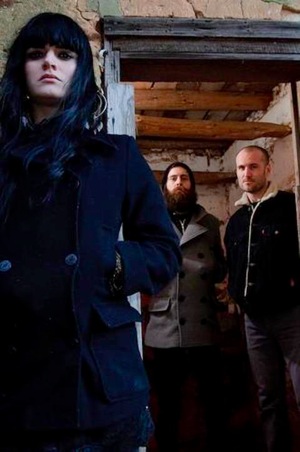 Hometown: Atlanta
Members: Mlny Parsonz (vocals/bass), Josh Weaver (guitar), Jesse Stuber (drums)
Album: Royal Thunder
For Fans Of: Wolfmother, Mastodon, Queens of the Stone Age
If you've had the chance to hear Royal Thunder's open-heart brand of blues-infused rock 'n' roll, wrapped in protective barbed-metal packaging, this news might come as a surprise: The lead singer, bassist, and lyricist, Mlny Parsonz—with her distinctive spelling, her sleeves of tattoos, her sultry countenance, and her Joan-Jett-meets-Alyson-Moss voice—spent most of her life "terrified" to sing in front of people.
When she was a kid, she'd tell her family to shut their eyes or turn around when she belted out Whitney Houston tunes. If pressed, she might be forced to include on her music resume "screaming along in metal bands" when she was older.
But, "You can't hold back when you're screaming, so it is what it is," says the 31-year-old Parsonz.
A few years ago, a newly formed Royal Thunder were rehearsing together in a living room in the Atlanta suburb of Marietta. Made up of Parsonz, her contentedly grungy (and equally tattooed) husband Josh Weaver on guitar, and 27-year-old Californian transplant Jesse Stuber on drums, no one had the nerve to step in front of the mic. That's when Weaver, 31, asked his wife to sing the song they had written, "Hotel Bend."
"She was so shy about singing that she literally had to set up the mic around the corner in the kitchen so we couldn't really see her," Weaver recalls. "As soon as she started to sing, me and Jesse looked at each other and were like, 'Wow, this is going to work.' We started laughing out of excitement—like, 'This is awesome. Holy crap.'"
"And I looked over and saw their reaction," Parsonz says of her bandmates' laughter, "and I thought, 'Oh, this sounds like shit.'"
All was explained, and Parsonz kept singing. In 2009, Parsonz, Weaver and Stuber—self-taught musicians—came out with a self-titled, seven-song EP that garnered buzz from fans and critics who fell for Weaver's melodic, early-Nirvana hooks and riffs, Parsonz's seething vocals and lyrics, and Stuber's concentrated yet considerate pounding on the skins. With bipolar songs that can swiftly mood-change from tenderness to torment, it's the kind of music that can prove metal-heads have a romantic side, or lure conventional rock fans to the dark side. The EP includes the scorching, tempo-grinding "Mouth of Fire," the complex-love burner "Low," and the operatic "Deacon."
The band re-released the EP in 2010 after they were signed to Relapse Records. Now, in that delicate place where their faithful are eagerly awaiting new work, they are recording their first full-length album. No release date has been set, though it is expected to drop sometime this year. The band, meantime, plays live shows when their schedules allow. Their performances can include a piece of taxidermy that doubles as a candelabra, a fog machine, and the rock 'n' roll sound offensive for which they're becoming known.
On the heels of four shows at SXSW, Parsonz, Weaver and Stuber found time away from their day jobs—cook, maintenance, and surgical tech, respectively—to sit in a Decatur, Ga., coffee shop and talk about things like "air drumming," the stigma of southern rock, and bad music teachers.
Paste: Can you tell the story about when you first started playing music?
Mlny Parsonz: With my piano teacher, she would try to show me with her hands different chords. I would turn my head so that my ear faced the keys. She thought I was turning away and not listening to her. I would try to tell her, "I'm listening to you. I'm just trying to hear it. And after I hear it, I'll go back and bang on the keys and find it." My mom came to pick me up one day, and the teacher talked to her outside and said, "I can't teach your daughter anymore. She's not listening. Every time I try to show her something, she looks away." So my mom took me out of that. Then I started taking guitar lessons when I was in middle school, early high school, and I had the teacher do the same thing. He was like, "You're never gonna play music with anyone if you don't learn how to read music, if you don't learn how to play like this, if you don't know this scale. You'll never be a guitar player." He was like, "I can't continue to teach you." I was like, "All right." My mom came to pick me up, and she let me buy a guitar book, and I learned how to play with one finger. I taught myself and it just happened.
Paste: When did you start writing lyrics? Was it journals or poetry or something like that?
Parsonz: No. I'm not really a journal or poetry kind of person. I just kind of let the song tell me what it's about. The mood of the song lets you know. I'm like, maybe it's a song about this, or I'll write a song for someone that's going through something. It's kind of the last thing that comes. I like to know the song instrumentally really well before I throw lyrics out.
Paste: Tell me about SXSW. What was that like?
Parsonz: Sweaty. Sweaty, hard work. But it paid off. It's our first time going out there and playing. It was great to play in front of that many people. Four shows in two days.
Jesse Stuber: The first show was at Hoek's Death Metal Pizza. The next show was at a warehouse called The Broken Neck. The next day, we played at Prague and then at Emo's. The Emo's show was the official one.
Paste: What was most memorable?
Parsonz: Looking out in the audience and seeing [Atlanta music scene-ster] Kenny Crucial.
Paste: He's everywhere.
Parsonz: He really is.
Josh Weaver: At the Hoek's show, we played a set for like a handful of people, and after we were done this guy came up and said, "Where are you from?" We told him Atlanta. He said, "Oh, me too." It turns out it was a guy with Criminal Records. He was like, "We've gotta get you guys to do an in-store." So we had to go all the way to Austin to get [an in-store at] Criminal Records.
Stuber: I thought the funniest thing that happened—I had never seen people air drumming, you know? Did you see that?
Parsonz: While you were playing?
Stuber: You know how some people do the air guitar solo? I saw a lot of people [mimics air drumming].
Parsonz: Air drumming?
[Laughter]
Stuber: Never heard of it. Never seen it before. I was like, "Either people are really drunk or they're really enjoying it or they're mocking us." That was memorable.
Paste: There's a lot of anticipation about the new album. Since we can't hear it right now, what's it going to be like? I've heard something about a song called "Parsonz' Curse." What is that?
Parsonz: You'll just have to hear the song when it comes and read the lyrics. It's definitely a story.
Paste: Is it a true story?
Parsonz: It's just, there are a lot of metaphors in it. It's about—you'll get more excited now if I don't tell you about it.
Paste: How does the album on the whole compare to your EP? It is going in a different direction?
Stuber: It's the same band. But it's a lot more dynamic and a lot more impressive. It's a cohesive effort. We put a lot of effort into making great Royal Thunder songs.
Paste: What do think when someone calls you a southern band, or southern metal. Does 'southern' bother you at all?
[Laughter]
Paste: Because it bothers me.
STUBER: I want to know why it bothers you.
Paste: Because there's a stereotype attached.
Parsonz: Yes. The southern rock thing.
Stuber: There is. Being from the West Coast, the southern thing, I can't stand.
Parsonz: Southern rock, the first thing I think is, "Well, no."
Weaver: I'm from [the Atlanta area] so I think it has its place. In rock bands and in metal, there is definitely a sound that is southern.
Stuber: But there is a stigma attached to "southern." And I know it. But whatever, dude. I don't personally read reviews like that.
Parsonz: People are gonna say what they want. I don't read reviews either. I read a few. I hate to admit it, but some of them, I was like, "Shit, that kinda hurts my feelings. What the fuck? That was a dick thing to say."
[Laughter]
Parsonz: But I finally got to the point where I really don't give a shit … What's the point? It's an opinion.
Stuber: I want to make sure you don't misinterpret me. I dig the South.
Paste: It's too late, man.
[Laughter]
Stuber: No, but I'm not ashamed of it and I hate to make it sound that way. But we're not a southern rock band … There's a certain rhythm-and-blues that the southern rock 'n' roll scene has, and I think if anything we appeal to that sense of it. But not the "Wave your Rebel flag." Or "Go and tattoo your friend's fucking leg."
[Laughter]
Parsonz: How is that a southern thing?
Stuber: I'm just saying.
Parsonz: It's just funny to hear you say that.
Paste: And the other thing, too: Atlanta is not really the South. Not the South South that people write about, where it's all rural and moonshine and…
Stuber: Atlanta's not like that. It's diverse. It's modern. I mean, look at the bands coming out of here, man. It's smart music. There's no room for stereotypes or scenes.
Paste: What is your description of the Atlanta music scene? There are a lot of little pockets, and it seems like there are bands that know each other and play together and design each other's album covers. And I'm wondering what Atlanta's music scene is like to you. And the second part of that: Where do you fit in?
Weaver: I think that –
Stuber: On the record.
[Laughter]
Weaver: On the record. When you come to Atlanta, you realize you can go out almost any night of the week and see great bands. That's the great thing about Atlanta. There are so many great musicians.
Paste: I don't want to categorize you, but do you think you fit in best with the Atlanta metal scene?
Parsonz: We are very open to fitting in anywhere. There's so much going on in our music. We're not trying to be in a certain scene. We just want to play good music with good bands.
Paste: How do you describe your music?
Stuber: That could be a long and intimate conversation. And it's just rock 'n' roll. Old people dig it. Young people dig it. Ten- and eleven-year-olds can groove to it.
Parsonz: We do have an eleven-year-old fan.
Stuber: I think the sound we've developed has come out of working on an individual basis, even before meeting each other. It's pretty much defined by solitude. I know that before I was doing anything with these guys, I learned stuff on my own. You have to take the time to develop your own sound, and not intentionally but because you have to be willing to not listen to anyone else tell you how it's done or what you should do. The sound that we've developed is so unique. You know, [Mlny and Josh] don't know keys. That just adds to the style and tendencies of their playing. And I have no formal training. Between the three of us, there's no outside influence.
Others Tagged With