Buddy Holly Tribute Album to Feature My Morning Jacket, The Black Keys, Paul McCartney and More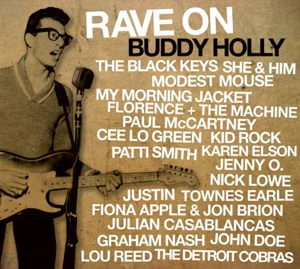 An upcoming tribute album to Buddy Holly, Rave On Buddy Holly, will feature the likes of My Morning Jacket, The Black Keys, Modest Mouse, Nick Lowe, Florence + The Machine, Cee Lo Green, Paul McCartney, She & Him, Justin Townes Earle, Kid Rock, Lou Reed, Patti Smith, Julian Casablancas and more.
19 songs are included in the collection, which will be released on Fantasy/Concord on June 28.
A release states that "Rave On's striking collection of musicians share Holly's insurgent rebel spirit and outsider point of view. The artists cross generations and styles, collectively and defiantly embracing Holly's distinctive rough and tumble inventiveness."
Instead of being a straight cover album, artists were "free to explore radically new interpretations." For example, Florence + The Machine brings an "industrial New Orleans" feel to "Not Fade Away" with Ivan Neville playing the keys, while Paul McCartney's rendition of "It's So Easy" features "raw, propulsive excursion filled with boisterous ad-libs."
Film-music supervisor Randall Poster, notable for his work with Martin Scorsese, Wes Anderson and Todd Haynes, was hired as producer and overseer. "As the tracks from various contributors were gathered for the album, we seemed to be gathering pieces of a complex and original puzzle," says Poster. "[That puzzle] traces back to the roots of rock and roll and shapes so much of the music that followed."
Poster also credits various track producers like Matt Sweeney, Joe Henry, Jack White and C.C. Adcock for the record's richness.
Had Buddy Holly not died in 1959 at the age of 22, he would have been 75 years old on Sept. 7.
Track List:
1. Dearest – The Black Keys
2. Every Day – Fiona Apple & Jon Brion
3. It's So Easy – Paul McCartney
4. Not Fade Away – Florence + The Machine
5. (You're So Square) Baby, I Don't Care – Cee Lo Green
6. Crying, Waiting, Hoping – Karen Elson
7. Rave On – Julian Casablancas
8. I'm Gonna Love You Too – Jenny O.
9. Maybe Baby – Justin Townes Earle
10. Oh Boy – She & Him
11. Changing All Those Changes – Nick Lowe
12. Words Of Love – Patti Smith
13. True Love Ways – My Morning Jacket
14. That'll Be The Day – Modest Mouse
15. Well…All Right – Kid Rock
16. Heartbeat -The Detroit Cobras
17. Peggy Sue – Lou Reed
18. Peggy Sue Got Married – John Doe
19. Raining In My Heart – Graham Nash
Got news tips for Paste? Email news@pastemagazine.com.