Flaming Lips, Guided By Voices, Superchunk Among Hopscotch Festival Lineup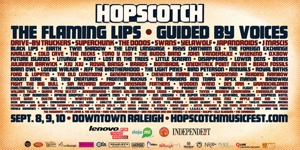 The Independent Weekly's Hopscotch Festival in Raleigh, N.C. will feature the likes of The Flaming Lips, Guided By Voices, Drive-By Truckers, Superchunk, The Dodos, John Vanderslice, Swans, Yelawolf, Black Lips, Cold Cave, Empress Hotel, The Love Language, Lost in the Trees, Twin Shadow and tons more.
The festival will run from Sept. 8-10 in downtown Raleigh.
For more information about the event, including ticket prices, hotel and venue information and maps, check out hopscotchmusicfest.com.
Full lineup:
All Tiny Creatures
Andrew Cedermark
Annuals
Apache Dropout
Apex Manor
Apple Juice Kid
Bandway
Barn Owl
Beach Fossils
Beans
Bird Peterson
Black Lips
Black Twig Pickers
Bombadil
Braids
Budos Band
Bustello
Caltrop
Carlitta Durand
Cassis Orange
Charlie Smarts
Cheyenne Marie Mize
Chip Robinson
Cold Cave
D&D Sluggers
Dan Melchior Und Das Menace
David Daniell
Dawn Golden and Rosy Cross
Des Ark
Dinosaur Feathers
Disappears
DJ Thien
Drive-By Truckers
Duane Pitre Sextet
Dustin Wong
Dylan Gilbert
Earth
Embarrassing Fruits
Empress Hotel
Eric Carbonara & Jesse Sparhawk
Family Dynamics
Fight the Big Bull
Filthybird
Flight
Ford & Lopatin
Frank Fairfield
Frontier Ruckus
Future Islands
Gauntlet Hair
Generationals
Grandchildren
Gross Ghost
Guided by Voices
Heads on Sticks
Hog
Horseback
Invisible Hand
J Mascis
Jack the Radio
Japandroids
JEFF The Brotherhood
Jennyanykind
John Vanderslice
Jon Lindsay
Julianna Barwick
Justin Robinson and The Mary Annettes
King Mez
KORT
Krallice
L.E.G.A.C.Y.
Last Year's Men
Le Weekend
Little Scream
Liturgy
Lonnie Walker
Lost in the Trees
Lower Dens
Man Will Destroy Himself
Man/Miracle
Mandolin Orange
Mount Eerie
Mount Moriah
Mouthus
Old Bricks
Oneohtrix Point Never
Onward, Soldiers
Organos
Oulipo
Oxbow
PC Worship
Peter Lamb and The Wolves
Prurient
Reading Rainbow
Rhys Chatham
Royal Bangs
Royal Baths
Shit Horse
Sir Richard Bishop
Soft Company
SPCL GST
Spider Bags
Steve Gunn
Super Vacations
Superchunk
Swans
Tender Fruit
The Body
The Caribbean
The Dodos
The Flaming Lips
The Foreign Exchange
The Light Pines
The Loners
The Love Language
The Moderate
The Necks
The Old Ceremony
The Prayers and Tears
The Strugglers
The Tomahawks
Toro Y Moi
Twelve Thousand Armies
Twin Shadow
Tyvek
Unknown Mortal Orchestra
Weekend
Wembley
Wesley Wolfe
Whatever Brains
William Tyler
Wooden Wand
Woodsman
Got news tips for Paste? Email news@pastemagazine.com.
Others Tagged With