Update: Fleet Foxes' Robin Pecknold Explains His File-Sharing Stance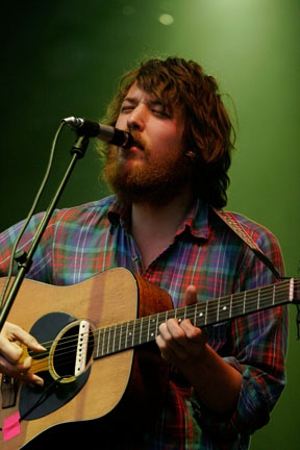 Update: Shortly after news of Robin Pecknold's comments about the issue of illegal file sharing began circulating the web, the Fleet Foxes frontman, upset that his words had been misinterpreted, took to the band's Twitter account to explain himself further.
"I said music has no inherent CASH value. Why the sensationalism all the time?" Pecknold said in an @-mention to NME. The singer went on, saying, "Cash value of all 'art' is subjective is all I was trying to say. A [Pollock] is worth millions for cultural reasons, not for cost of paint."
Another Tweet continued, "That the prices of music 'products' have dropped post-filesharing (post-scarcity) proves the lack of objective CASH value."
---
Fleet Foxes frontman Robin Pecknold recently spoke out about his support for illegal file sharing, arguing that music "has no inherent value." In an article in The Sunday Times, the singer said that music piracy was crucial to the success of the band's 2008 debut, and he would continue to support the activity for the band's sophomore effort, Helplessness Blues, dropping later this year.
"How much money does one person need before it's just a number and I can buy whatever I want – and just be like a big baby?" he said.
Pecknold has been vocal about his support of illegal downloading in the past. In 2009, insisted to BBC News that file sharing exposes musicians to a wider variety of influences, making music "richer as an artform."
"That was how I discovered almost everything when I was a teenager – my dad brought home a modem," he said, naming Brian Wilson's Smile and The Zombies' Odessey and Oracle among the albums he was exposed to through file sharing.
Helplessness Blues is officially available May 3.
Got news tips for Paste? Email news@pastemagazine.com.
Others Tagged With