Foo Fighters Give Away Pieces of Wasting Light Master Tapes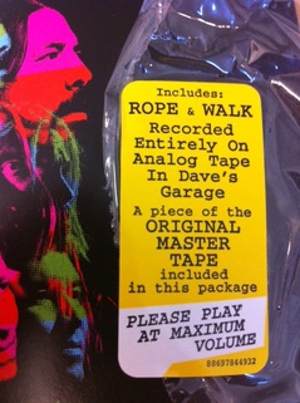 Foo Fighters' seventh LP, Wasting Light was released today. Recorded entirely in frontman Dave Grohl's garage on analog tapes, the album returns to Foo Fighters' garage rock roots. In a move somewhat symbolic of the physicality of the album, Grohl and the Foo boys have cut up the album's master tapes and given away the pieces to their fans.
Physical copies of the band's new album include a small piece of the master tapes, the physical equivalent of roughly a single note or drum beat.
"Everyone was so precious about tapes, so afraid they're gonna shed or break or something will happen to them," Grohl said in an interview with LA Weekly. "That just made me want to destroy it. To prove a point to everybody to show how intangible a real tape can be. I thought, let's chop it up into a million pieces, and give it to the people who buy the album so they can hold it in their hands and see it. A lot of the records you buy, there's nothing you can hold in your hand, it's all 1's and 0's, this digital cloud floating in the ether. but with analog albums, you can hold it in your hand."
In a musical landscape dominated by everything digital, Grohl and the Foo Fighters make a very analog, very physical, very old school move. Very cool.
Got news tips for Paste? Email news@pastemagazine.com.
Others Tagged With