Game of Thrones Review - Episode 2 - "Kingsroad"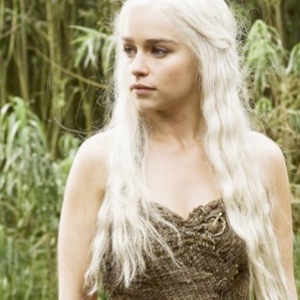 The mark of a good TV series, whether about gangs in Baltimore, '60s ad execs or mythical realms is good characters, and the second episode of Game of Thrones allows us to get to know some of them. With an unwieldy number of introductions in the pilot, "The Kingsroad" settles in on a few in particular.
The episode begins with Daenerys, daughter of the deposed mad king, on the march to her new home in the Dothraki village, where a more normal domestic existence replaces the hedonism of the wedding ceremony. Sad and alone, she nevertheless determines to make the best of her new life, despite being given over to a brute who doesn't speak her language and takes her roughly in his bed.
Tyrion Lannister, played by the always fantastic Peter Dinklage, is waked in a stable by his nephew the prince. We've already learned that the "Imp" suffers no fools, and that includes the horrible, spoiled young king-to-be. But he's loyal to his family, even if they are a fairly despicable lot. Though not a narrator, Tyrion in a way serves as our wise and cynical observer of all that is unfolding; despite his whoring ways and gruff exterior, he seems to be the lone Lannister with a moral compass.
Queen Cersei and her brother Jaime remain in an elicit affair, which led to young Bran Stark getting pushed out of a window when they were discovered in the premiere. But Bran survived, and his mother Catelyn watches over him, ruined in her grief. She ignores her other children, along with her mounting duties with her husband away serving the king. And she's cold as ice to her husband's bastard son Jon Snow, who he brought home from the last war. Her dedication to Bran pays off when she stops a second assassination attempt on her son.
Jon is headed off to take vows with the North Watch, pledging celibacy and a life of duty. But Jon is close to his youngest sister, the tomboy Arya, to whom he presents a parting gift of a sword. Her innocent rough-housing with the butcher's son leads to the prince showing off his spiteful arrogance and getting attacked by Arya's Dire Wolf. Arya's oldest sister Sansa is caught between her future husband the prince and her own family, and chooses against Arya when confronted by the king. She pays for her betrayal when her own wolf Lady is executed in place of the wolf Arya sent off into the wild.
As the magical wolf is slain, Bran again provides the closing twist, awakening from his coma.
The epic scope and large cast keeps the story at a brisk pace without spreading itself to thin in Episode 2. Where the premiere left me merely curious, "Kinsroad" hooked me in. It's a bit of a royal soap opera, but an engaging one, and one that should continue to attract an audience—of both genders.
Others Tagged With