Jason Rohrer's Infinite, Star-Filled Sky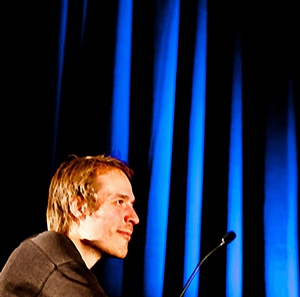 Page 1 of 3
What follows is an interview with Jason Rohrer, an independent game developer with whom I chatted a couple of days after the Game Developers' Conference in early March. Publication got delayed a bit due to some technical issues, but I'm happy to share it with you now. I wanted to note that in the time since I wrote this, a fair amount of controversy arose regarding Rohrer's game Chain-World; you can read a solid breakdown of the whole thing here. Thanks to Jason for taking the time to speak with me.
March, 2011: It's the last day of the 2011 Game Developers Conference in San Francisco, and three of the industry's best are about to face off in a crowded ballroom at the Moscone Center's West Hall. The event: the conference's annual Game Design Challenge. The theme: "Bigger Than Jesus." In this contest, each designer must come up with theoretical game that could also be a religion—not, as host Eric Zimmerman is careful to point out, a game about religion, but a game that plays like a religion itself. Then, after each presents his vision, the winner isdetermined by the crowd's cheers.
Veteran game designer John Romero (Doom, Quake) dreams up a goofy-but-clever concept based in Twitter: Create a "Messiah" profile. The first 12 followers are the apostles, who then go out and recruit followers in the real world. Returning champion Jenova Chen (Flower, Journey) rolls out a long-winded speech about gamifying the TED (Technology, Engineering & Design) website. His analysis of modern religion is interesting, but fails to resonate with the audience.
But before Romero's and Chen's presentations, independent game designer Jason Rohrer (Sleep is Death, Inside a Star-Filled Sky) lays out his own idea. Rohrer is tall, young and energetic, and moves around animatedly when he talks, a predilection he jokingly referred to as "doing my Obama thing." He leads the audience through a reflection on the mysterious nature of our ever-changing world, saying that he wants to create a game that explores the nature of the Predecessor (God) and the Successor (Man), and allows players to take a turn at both roles. With this framework in mind, he uses the game Minecraft as his foundation.
Minecraft is Markus "Notch" Persson's wildly popular sandbox game, an open-ended world-building experience that randomly generates each of its levels and leaves players free to reshape the world as they see fit. Rohrer's game is a similarly styled experiment (or "metagame") he dubs Chain-World. To begin the titular "chain," Rohrer would play a Minecraft game until he died in-game, then place the save file on a USB key. The key is then passed off to a new person, who would play a single game, save it immediately after dying , and once again pass the USB key to the next person. So Chain-World would grow and change as it's passed through the hands of more and more users, each person taking a turn at being both successor and predecessor in an infinite loop of creation.
At the conclusion of his talk, Rohrer hands the USB key to an audience member, and Chain-World begins in earnest. Later, when it comes time to decide the Game Design Challenge's winner, the crowd's cheers are decisive: Rohrer by a landslide.
"Minecraft was a perfect fit for the kind of spiritual connection I wanted to make between people," he says a few days after the event. "I feel like there's already a bit of spirituality lurking in Minecraft, particularly on the multiplayer servers. When you're in those servers, you see all this stuff that people have created before you, and you sort of wonder about it, like, 'What was this here for?' So there's already a little of that mystery surrounding the game."
Others Tagged With