Lost Rory Gallagher Album to Be Released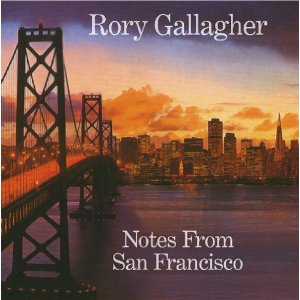 Considered to be one of the guitar greats, Rory Gallagher formed his powerhouse trio, Taste, in 1966 before going on to a successful solo career. Now, 16 years after Gallagher's death, a lost studio album has surfaced.
In November 1977, after a six-month world tour, Gallagher and his band flew from Japan to San Francisco to begin work on a new album with famed producer Elliot Mazer (who worked on Neil Young's Harvest, Big Brother & The Holding Company's Cheap Thrills and The Band's The Last Waltz). However, as Mazer recalls, the sessions grew "tense" as Gallagher felt the mixing process was "too complicated." Before the end of the following year, the album was shelved, and Gallagher had disbanded his group of the last five years.
Gallagher said in 1992 that he hoped the album would eventually surface, but only if it were remixed. That's where Gallagher's nephew, Daniel, comes in, recovering and remixing the album for this special release.
Notes from San Francisco will be released May 17 from Eagle Rock Entertainment. The two-disc set contains the lost album along with a separate live album of previously-unreleased material taken from four nights of performances in 1979 at San Francisco's The Old Waldorf.
Tracklist:
Disc 1
1. Rue The Day
2. Persuasion
3. B Girl
4. Mississippi Sheiks
5. Wheels Within Wheels
6. Overnight Bag
7. Cruise On Out
8. Brute Force & Ignorance
9. Fuel To The Fire
Bonus Tracks:
10. Wheels Within Wheels (Alt version)
11. Cut A Dash
12. Out On The Tiles
Disc 2:
1. Follow Me
2. Shinkicker
3. Off The Handle
4. Bought And Sold
5. I'm Leavin'
6. Tattoo'd Lady
7. Do You Read Me
8. Country Mile
9. Calling Card
10. Shadow Play
11. Bullfrog Blues
12. Sea Cruise
Got news tips for Paste? Email news@pastemagazine.com.
Others Tagged With