The Smashing Pumpkins Announce Reissues, New Album in the Works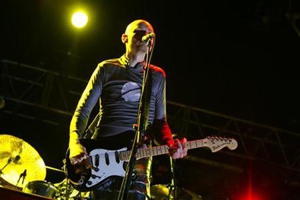 This fall EMI Music will begin reissuing The Smashing Pumpkins' albums originally released from 1991-2000.
The rereleased albums will be fully remastered, and each deluxe version will include bonus material.
The global catalog campaign will begin with the band's 1991 debut Gish, followed by Siamese Dream and the compilation album Pisces Iscariot.
In 2012, EMI plans to reissue Mellon Collie and the Infinite Sadness , The Aeroplane Flies High and Adore, with Machina/The Machines of God and Machina II: The Friends & Enemies of Modern Music to be released as one package in 2013.
The band has announced that they will return to the studio in May to record Oceania, as part of Teargarden by Kaleidyscope, their current in-progress work. The band already released nine tracks off of the album and plan to premiere one more, "Owata," next week.
Colin Finkelstein, COO of EMI Music North America, said in a statement, "We're excited to work with Billy Corgan to release remastered and expanded editions of the band's visionary albums, including previously unreleased recordings, and for EMI Music to exclusively distribute other gems from The Smashing Pumpkin vaults, as sourced by Billy."
For more information on the reissues and future release of Oceania, visit the Smashing Pumpkin's website.
Got news tips for Paste? Email news@pastemagazine.com.
Others Tagged With