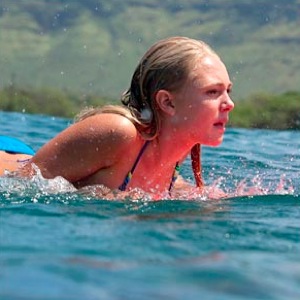 Director: Sean McNamara
Writer: Sean McNamara, Deborah Schwartz, Douglas Schwartz, Douglas Schwartz, Michael Berk
Cinematographer: John Leonetti
Stars: AnnaSophia Robb, Dennis Quaid, Helen Hunt, Carrie Underwood
Studio/Run Time: TriStar Pictures, 106 minutes
In 2003, a talented teenage surfer, Bethany Hamilton, was lying on her surfboard off the coast of Kauai when she was attacked by a tiger shark and had her arm bitten off just below the shoulder. Not only did she survive the attack, but her burgeoning professional surfing career thrived, she began doing charity work and she became something of an inspirational role model for many. In 2004, she co-wrote a book about her ordeal, and now, of course, Hollywood has come calling. Soul Surfer, directed by Sean McNamara (the director of lots of films with "movie" in the title, like The Suite Life Movie, Bratz: The Movie, and The Even Stevens Movie), tells the story of the attack and Bethany's comeback. It's full of beautifully shot surfing and terrible acting. It's also full of an extremely blatant, simplistic and hackneyed Christian spiritual message about divine will and why bad things happen to good people. In short, it's an awful film.
For the first 30 minutes of Soul Surfer, one thought dominates: "When is the shark attack going to happen?" Helicopter shots of teenage surfers slide across the screen, the camera swoops up through crystal clear azure water towards arms and legs dangling over surf boards, fireworks explode above a nighttime surfing party… and, all the while, an incredible tension reigns. When will the damn shark bite her arm off? That's the main reason you're watching this for, right? When it finally happens, McNamara gives us the anti-Jaws, keeping it short and sweet. CGI shark jumps up and bites, arm is gone, gore is kept to a minimum. And from there the movie goes even farther downhill.
Bethany is played by AnnaSophia Robb, a pretty blonde 17-year-old who has previously starred in the remake of Charlie and the Chocolate Factory and the film adaptation of Bridge to Terabithia. Her parents, played by Dennis Quaid and Helen Hunt, are surfers themselves, and encourage their daughter's aqua activities. They also encourage her acceptance of Jesus Christ as her Lord and Savior, as does Carrie Underwood, who plays a youth counselor who is close to Bethany. Underwood is embarrassingly bad, and her cause is not helped by the cheesy dialogue she has to work with. Before the attack, she is kind of disapproving of Bethany's preference of waves over God (although she shouldn't be too concerned, the margin is pretty slim), and afterwards she tries to help her see that it's all actually part of God's plan. Sure, it's gonna be incredibly hard for Bethany to put on a bra or play guitar for the rest of her life, but there's a reason why this bad thing happened to this good person—and that reason is to look beyond surfing and, say, go to Thailand to help out after the devastating 2004 tsunami. A great deed, no doubt, but one that she probably could have performed better with both arms.
So it seems that there are many good things that arose from Bethany's ordeal: her continued surfing success, her ESPY award, her book, and now her movie. In other words, cha-ching. God certainly does have a plan. It's hard to say what audience Soul Surfer will appeal to more—tweens or the faithful—and either group may very well make this film a financial success. Stranger things have happened, but if Soul Surfer is well received, it just might make a believer out of this critic.
Others Tagged With