Steve Earle: I'll Never Get Out Of This World Alive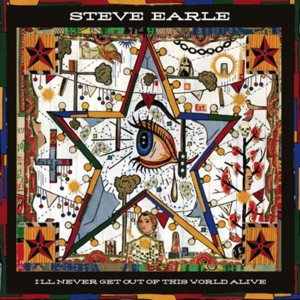 Steve Earle has never been one to pull his punches. In both his spectacularly troubled personal life and his rough and tumble songs, subtlety has never been the name of the game. Nothing's changed this time around, and the release of I'll Never Get Out Of This World Alive with songs like "Little Emperor" — Earle's final kiss-off to the Bush era — and the Woody Guthrie-inspired "Gulf of Mexico" show that recent successes evidenced by Grammy and Emmy awards, a celebrated acting career and a soon-to-be-released novel have done nothing to dull his wicked edge. For longtime fans, that can only be a good thing.
I'll Never Get Out Of this World Alive is Steve Earle's 14th studio album and his first collection of original material to be released since Washington Square Serenade won the Grammy in 2008 for Best Folk/Americana Album. Townes, Earle's tribute to his mentor, the legendary songwriter Townes Van Zandt, went on to win a Grammy the following year in the Best Contemporary Folk Album category, so it wouldn't be much of a stretch to infer that the singer felt no small amount of pressure when he went into the studio to record a follow-up.
For the most part, the album is an unqualified success, and the songs seem carefully chosen to play to all of Earle's strengths, but at times there is a nagging sense that he's playing it safe. The musical risks that can be heard on releases like 1999's Mountain or Washington Square Serenade, which featured Tom Morello from Rage Against the Machine, are noticeably absent. As if to ensure a hit, Earle brought in T Bone Burnett to ride shotgun on these songs, but for the most part the celebrated producer conducts with a light hand, and his trademark spacious, hollow-bodied sound is scrupulously downplayed. "Waiting for the Sky to Fall," the '50s-sounding rockabilly track that opens the album, is an exception, but in this case, the expansive treatment Burnett opts for perfectly complements Earle's rearview meditations about avoiding the draft as a teenager growing up in a military town.
As is often true with Earle's music, it's when he appears to try the least that he has the most success. "God is God" — previously recorded by Joan Baez in 2008 —demonstrates Earle's mastery of the simple turns of phrase. Similarily, the unabashedly direct "Every Part of Me" is a model of conciseness and precision that is almost impossible to fault. The only real clunker in the set is "Meet Me in the Alleyway," a number that attempts to channel Tom Waits circa 1987 and comes off sounding forced and dated.
These small quibbles aside, I'll Never Get Out Of this World Alive is a solid addition to Steve Earle's impressive body of work that should satisfy both faithful and new listeners alike.
Others Tagged With