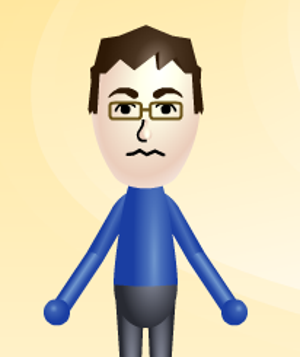 Right now, the 3DS is probably the most expensive pedometer you can buy. Or at least, that's what I'm using it for the most. I've taken 50,853 steps with it in the last two weeks. What's keeping it in my pocket is the shallow hope I'll bump into someone else with a 3DS so they can give me things. I love things.
Maybe if I lived in an area with a higher density of 3DS owners like Los Angeles or New York, I'd be racking up StreetPasses like no tomorrow. Instead, I'm living out the (lonely) Midwestern dream-life in Grand Rapids, Michigan. I've taken my metallic-black clamshell with me everywhere people might be: the movie theater, Best Buy, the grocery store, etc. No dice. I was already excited when I sat down for a screening of Jurassic Park last week, but seeing the guy in front of me playing Pokémon somehow made me even more giddy. And then I realized he was playing it on a DS Lite. Cue the fail trombone.
When I saw the space on the bottom screen reserved for notifications light up the other day with an unread message, I felt like a kid on Christmas. Did I finally get a StreetPass? Could someone other than a mercenary cat (long story) help find my Mii in the included game Find Mii? Nope, it was Nintendo telling me there was a firmware update available. Again with the fail trombone.
Maybe if Nintendo actually developed their online ecosystem and allowed me to, I don't know, let my friends list population come over and "Find my Mii" instead of freelance felines, my Mii wouldn't still be stuck in this tower. But even if that were the case, I'd have a heap of coins collected from my soul-crushingly lonesome StreetPass sojourn and relatively little to spend them on.
I'm even forlorn when I fire up Pilotwings Resort. I'd love it if my best times and scores on the end-of-mission leaderboards were alongside those of my pals; then I'd have extra incentive to replay missions even after earning a perfect rating. But is that an option? Nope.
I don't even know what my friends list is good for. After entering an unwieldy numerical code for each friend and then making sure they entered mine, all I can do is see their Mii, what they played last, and not much else. It's 2011, and I don't need to send a message through my console when I have the rest of the Internet at my disposal.
What really worries me is there's nothing on the horizon that interests me besides Ocarina of Time 3D, and that's a single-player only game. Will I always be alone with my 3DS? Also, Zelda doesn't release until the middle of June. By then I'm fairly certain I'll be tired of walking around with my 3DS in my pocket.
Maybe I'll be able to buy Deku Seeds or slingshot ammo with the coins I earned from all this walking. Yeah… maybe.
---
Timothy J. Seppala is a freelance writer from Grand Rapids, Michigan. You can read his work in Official Xbox Magazine, @Gamer magazine and a flurry of other places online. If free things like games and profanity interest you, follow him on Twitter @timseppala.
Others Tagged With