Superman Renounces U.S. Citizenship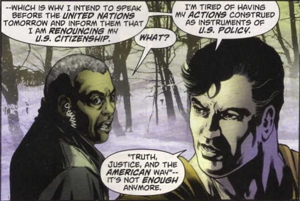 The Man of Steel has found himself in hot water recently after his comments in Action Comics #900 earlier this week.
"I am renouncing my US citizenship," Superman says after officials criticize him for joining a million protesters in a peaceful anti-Ahmadinejad vigil in Iran. "I'm tired of having my actions construed as instruments of U.S. policy. 'Truth, Justice and the American Way' — it's not enough anymore. The world's too small. Too connected."
"This is absolutely sickening," one reader said on Foxnews.com. "We are now down to destroying all American Icons. How are we going to survive as a Nation?" Swamp Fox Press, similarly upset by the comments, urged for a boycott on all DC Comics franchises, particularly Superman. The Weekly Standard called the superhero's comments as "about the dumbest thing DC Comics could do."
However, the comments in the recent issue of Action Comics are actually part of a long-planned rebranding movement, and Superman isn't the only superhero who is shedding his red, white and blue ties. For Superman, it started in with Superman Returns, when the hero's slogan of "Truth, justice and the American way" was changed to "Truth, Justice and all that other stuff." When the film came out in 2006, co-screenwriter Dan Harris justified the change, calling Superman "an international superhero."
G.I. Joe took a similar path when the film was released in 2009, eliminating the franchises subtitle "Real American Hero," opting for the acronym "Global Integrated Joint Operating Entity." The new Thor film is certainly embracing an international mindset as well, debuting overseas before opening stateside. Likewise, Captain America: The First Avenger will drop Captain America from the title when it premieres in Russia, Ukraine, and South Korea.
Got news tips for Paste? Email news@pastemagazine.com.
Others Tagged With