Zooey Deschanel to Play On Winnie the Pooh Soundtrack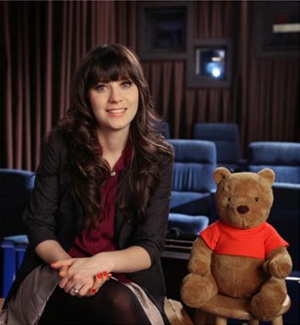 She & Him songstress Zooey Deschanel will appear on the soundtrack for the upcoming Winnie the Pooh film, scheduled for release this summer.
Deschanel performs three songs on the soundtrack, including the "Winnie the Pooh" theme song.
"She was the perfect choice to do the 'Winnie the Pooh' song—a classic theme from the Sherman Brothers," says director Don Hall. "Her music actually embodies the underlying spirit of the movie. We're taking something that has vintage roots in the sixties, but spinning it in our own way and updating it. If you listen to Zooey's music with She & Him—that's their sound to a tee."
The singer also pens an original tune for the soundtrack, "So Long," the end-credit song of the movie. She worked on the song with bandmate M. Ward, and a clip of the video can be seen below.
Deschanel's vocals also appear on the tracks, "Everything is Honey" and "Pooh's Finale", which also features the voice of Winnie the Pooh and Tigger, Jim Cummings.
The soundtrack is scheduled for release July 12 via Walt Disney Records, three days before the film hits theaters on July 15.
Got news tips for Paste? Email news@pastemagazine.com.
Others Tagged With