Fight Breaks Out at Atlanta Film Fest Screening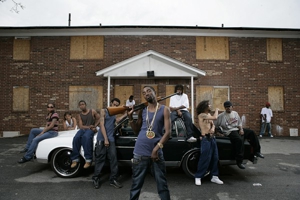 At last night's Atlanta Film Festival screening of Snow on Tha Bluff, a melee broke out between the stars of the film and a number of audience members. The film purports to be a fictional story but feels very real in parts, and the filmmakers themselves have blurred the lines between the two, noting in their press kit that they "have been advised by legal counsel that in order to protect ourselves and everyone in the film, we should not divulge this information" [on what is real in the film vs. what is fictional]. During a particularly troubling scene in the film, a group of audience members left in protest, and an altercation ensued. Paste reviewer Jonathan Hickman was present at the screening. His on-the-scene video is below.
Paste: Jonathan, what happened tonight?
Hickman: I've never felt fearful for my life in a movie theater before. But tonight, at the Atlanta Film Festival, that happened. It was exciting, actually!
Paste: Let's start from the beginning. Tell us about what happened before the film even started.
Hickman: I have some video of the guy I interviewed; they called him Curtis Snow. And the film is called Snow on Tha Bluff. It's shot in Atlanta; you see several shots of the city itself. Prior to the screening tonight, a representative of the Atlanta Film Festival introduced me to the filmmaker, and he was an impressive looking fellow. He looked very well-heeled, like someone who really knew what he was doing. But he tells me he won't go on camera, that the star is doing all the press because it's about his life.
Paste: And there's some controversy about exactly how this film should even be classified, right?
Hickman: It's not listed as a documentary; it's listed in the Narrative Features section
It's a narrative feature shot in a faux-documentary style. So I assumed immediately that they were trying an I'm Still Here kind of thing, where they preserve the illusion that it's a documentary. So I tried to direct the star a little bit on the red carpet, and he appeared to be really enjoying himself. Now at this festival, there's a bar upstairs. And I know I've sometimes had a few beers and gone in to watch a movie. It's a really nice environment. Well, this fellow was clearly relaxed quite a bit. And he went on and on about his camera and how this was his life, and how he'd done things he wasn't proud of. You'll be able to say it on the video. But he kept saying things really fast, and using a lot of street terminology. Now I'm a criminal defense attorney, and I have represented many folks over the year who speak in this manner, so I could at least somewhat understand! But it was difficult to follow.
Paste: Then came the screening?
Hickman: Yes, so we go into the screening, and the crowd is made up of a lot of the people who are going to be featured in the movie. And the opening short is a film called Bayou Black, which was really well made, shot on the Canon 7D and obviously with a cinematic lens package. It was very professionally done. And people in the audience are talking very loudly during that short. It's a crowd that likes to interact in the movie theater a lot, and that can enhance the viewing experience. I'll be honest, I don't like when people talk in the theater, but in this particular movie I don't think it really mattered. What happened, though, was something altogether different. The movie started, and we were a little thrown off because the first part of the movie did not really seem to be as authentic. A couple of kids meet with Curtis Snow, wanting to buy a bunch of drugs, and he steals their video camera and proceeds to make a documentary of his life. And it is really intense. The first half hour of the movie is really tough to watch. The camera work is very unsteady. The sound, though, is very good, which makes me think the film was somewhat planned. And there is one scene in the movie that really blew the roof off the room. It's a scene where the star is cutting a bunch of crack cocaine at a dinner table, and his little son is almost putting his hand into the crack. We didn't get to see the rest of the scene, so I don't know if he actually does play in the crack. He's got a razor blade there, and a filmmaker is interviewing him. It reminded me of the crack house scenes in The Fighter, but much rougher and more authentic. In The Fighter you always know that Christian Bale is playing a character, but in this movie you're not sure what is real and what is fake.
Paste: How did the altercation get started?
Hickman: At this point, a very large guy, a guy it looked like you wouldn't want to mess with, gets up with his entourage to leave. And either the filmmaker or the star approached him and demanded to know why he was leaving. And this little toddler, maybe one or one and a half, is on the screen is in a very dangerous situation, playing with this crack. And half the audience is laughing loudly. And this guy gets into a screaming match with the filmmaker and the star in the back of the theater. And this is what he said (and it was on the minds of a lot of people in the theater) – "Did you make this movie? Is this real? And if it is, how dare you?" Then some girl in the front of the theater starts screaming "It's not like that! It's not like that!" And then there's a fight. And it kind of rolls out into the lobby.
Paste: People throwing punches and everything?
Hickman: They were fighting. It was so dark I couldn't see if any actual punches were thrown. But they were locked together, pushing back and forth, rolling out into the lobby.
Paste: So at the least, there was a physical altercation.
Hickman: There was a physical altercation, yes. And although I didn't actually see punches thrown, I would imagine that there were. Pushing and shoving definitely happened. Then a group of people that looked as if they had come right off the move screen were walking back to that location. And most of the theater walked out through the emergency exit into the alley behind the building. It was shocking. I've never had to flee a movie theater.
Paste: Did you go back in?
Hickman: Yeah, I went back in to try to talk to the filmmaker, because I felt for him. If this was actually a fiction film, I thought he should be given some consideration for that. But if that was really true and there was a little toddler with crack there, I mean this isn't some nature doc or something. The filmmaker has some ethical responsibility to step in there.
Got news tips for Paste? Email news@pastemagazine.com.
Others Tagged With