Hands-On: Call of Duty's "Elite" Online Service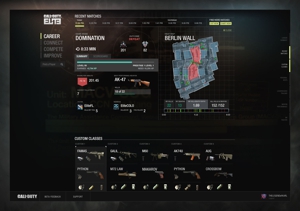 "Four or five years ago, it would have been easy to describe a Call of Duty gamer," said Activision VP of Digital Jamie Berger. "That's changed." Berger was speaking at the San Francisco unveiling of Call of Duty Elite, Activision's upcoming social media network. In Berger's words, Elite will be "a new vector of innovation for the Call of Duty franchise."
The service keeps track of a player's career through three tabbed subcategories — "Connect," "Compete," and "Improve" and an be accessed via web, mobile device or game console.
The "Connect" tab allows players on all game platforms to find one another via social networking sites like Facebook and to organize into groups and clans. Players can create custom leaderboards and form their own discussion threads, as well as upload, tag and comment upon videos via Call of Duty's integrated theater.
System-wide stat-tracking and leaderboards fall under the "Compete," tab, which will open the door for ongoing player-created and Activision-sponsored competitions. As if bragging rights weren't enough of a motivator, official competitions will now offer real-world prizes — the rewards on display included a $20 Starbucks' gift card and a brand-new Jeep.
The "Improve" tab looks to be the most practically useful for hardcore players, offering access to a huge number of persistent stats. Players can drill down through their weapon statistics, encounter distances, kill/death ratio, headshots, assists, and even heat-map reenactments of recent matches. More bloody-minded players can also study and track their rivals, comparing attack patterns, techniques, weapon loadout, and leaderboard performance.
Call of Duty Elite will have an open beta over the summer and will be free for all players when it launches in November alongside Modern Warfare 3. Activision will also offer a premium membership option, which will include enhanced features as well as access to all future Call of Duty DLC.
While the price of premium membership has yet to be announced, Berger made it clear that those who buy Modern Warfare 3 will still be able to play online without paying any extra fees. "We do not charge for multiplayer, and we have no intention of charging for multiplayer.
"[Call of Duty] is not even a game anymore," Berger went on, "it's a lifestyle." According to his numbers, 30 million unique users have played Call of Duty online this year alone, with 7 million players shooting it out online every day. "No different from being a golfer or a marathon runner," he observed, "there are people out there who are Call of Duty players."
Call of Duty Elite looks set to capitalize on those numbers. It appears much closer to Activision/Blizzard's own Battle.net than to past console-centric social networks like Bungie and Microsoft's Halo: Waypoint. By integrating itself into Modern Warfare 3's multiplayer experience also engaging fans away from their consoles, Elite should further strengthen Activision's hold over the online multiplayer market.
Others Tagged With