How To Make Bad Videogame Voice-Acting Hilariously Great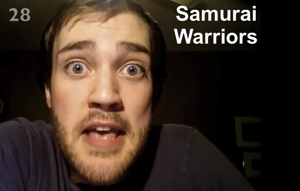 It's not too much of a stretch to say that videogames have had a checkered past when it comes to voice-acting. Blame it on hacky writing, blame it on bad Japanese-English translation, or blame it on limited budgets that forced developers to cast themselves as the characters in their games. Any way you slice it, a lot of videogame voice-acting can be so cringe-inducing as to make us miss the days of text-only games.
Enter Canadian muscian Dean Lauderdale, who has uploaded a video of himself lip-synching along with 50 of the most well-known and truly awful videogame voice-over clips of all time.
He goes from Castle Shikigami 2:
"Hold me if I'm dying, and vice-versa, okay?"
...to Resident Evil: Director's Cut:
"Jill - here is a lockpick. It might be handy if you, the master of unlocking, take it with you."
...to The Space Adventure:
"If I die, will you play Chopin in remembrance of me?"
Every one is solid gold, and Lauderdale's hammy performance helps drive home the fact that yes, these lines were actually intended to sound as though they were spoken by non-insane human beings.
We've come a long way since the early days of fully-voiced games. Games these days often feature work by great voice-actors like David Hayter, Nolan North, Jennifer Hale and Ali Hillis, each of whom has become famous in his or her own right. Furthermore, golden-piped film and television actors like Martin Sheen, Adam Baldwin and Stephen Merchant have joined the fray, lured by the bigger budgets and loftier ambitions of current-day games. Any way you slice it, it's safe to say that videogame voice-acting has never been better.
But all the same, we give thanks to Dean Lauderdale for this excellent tribute to gaming's most excellently terrible performances. May their glorious awfulness forever stand the test of time.
Got news tips for Paste? Email news@pastemagazine.com.
Others Tagged With