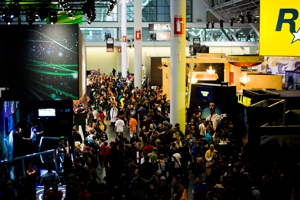 March, 2011 - I was standing in a line for a PAX East press pass when Curt Schilling walked in, garnering absolutely no reaction from the people around me. That's the only time that's ever happened anywhere in Boston. That's like Norm not being recognized in Cheers. He might look like a taller version of your lumpy suburban dad, but he's still Curt Schilling, outspoken baseball superstar and famous video-game big shot. His face beamed from a nearby newspaper box, filling out the cover of every issue within. Nobody bothered him as he walked through the lobby.
Forty-five minutes later I was still in that same line. Somewhere within the Boston Convention and Exhibition Center, during a keynote speech I had hoped to cover in my duties as an intimidatingly serious games writer, Jane McGonigal delivered a lecture that from all reports could basically justify spending thirty hours a week camping in Bad Company 2. Because the people who go to PAX need to be told to spend more time playing games.
I was standing in one of these lines somewhere at PAX East when it hit me: the easiest way to feel like an outsider is to hang around people who obsess over something you like.
I play and write about games because I enjoy them and am fascinated by the ideas behind them. I don't use this hobby as a one-stop identity shop. I am sure the vast majority of PAX attendees engage fully and thoughtfully with the wider culture, but after walking the floor of PAX East it's easy to view them all as blinkered obsessives who think Chrono Trigger is man's greatest work of art.
And of course I was standing in a line when I realized these things. What else would I be doing? That's all PAX is, a never-ending series of lines, occasionally broken up by the flash of a yellow press pass. It's like the DMV, but you only get your picture taken if you're dressed like a lady Street Fighter.
These lines consisted of ridiculous amounts of people who I quickly assumed had equally ridiculous mindsets. Of course that sounds irrational. But then PAX isn't a rational place. PAX isn't even really about playing games. Sure, there were games one could play, with cards, boards, or joysticks, but playing games felt secondary to congratulating one another for sharing a pastime.
To enjoy PAX you can't just have an interest in games. You can't merely be a person who has liked games for thirty years, who likes them enough to write about them for very little money. Genuinely loving games isn't even enough. You have to love the idea of loving games. You have to listen to music about games and tell jokes about games and dress like characters from games. You must completely obsess over games until you forget how to relate to people in any other way. It's kind of like being an Evangelical or, worse, a Boston sports fan.
How much of this is warranted, and how much is simply me projecting my own insecurities onto a group of people openly embracing what they love? I feel the same way when immersed in any subculture that I'm only somewhat interested in. Maybe it's because I'm a proud dilettante annoyed by those more dedicated than me. Or maybe it's because someone can enjoy video games without wearing t-shirts with Portal references or listening to MC Frontalot or laughing at bad web-comics that focus exclusively on one of the great multitude of entertainment options available to us today.
I hate cynicism, but then this all sounds very cynical. PAX East makes me hate myself. My unease would occasionally disappear when I was able to actually play games, especially titles I knew nothing about in advance, like Outland, Bastion, and Skulls of the Shogun. Playing these smaller games while talking to the artists and producers who helped make them showed me the true value of PAX, especially for fans who couldn't otherwise make it into industry shows like GDC or E3.
Please don't get the wrong impression. I like games. Games are good. People should play them. But every once in a while they should put those games back on the shelf and see what else the world has to offer.
---
Garrett Martin writes about video games, comic books, and music for a number of regional and national publications. He covers video games for the Boston Herald, edits a weekly comic review column at Paste, and is an editor and writer for Voice Media's games blog Joystick Division.
Others Tagged With