Tegan and Sara Speak Out Against Tyler, The Creator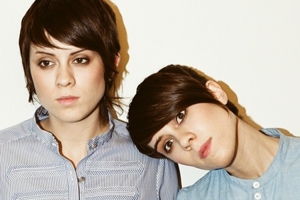 Sara Quin of Tegan and Sara recently took to the band's website to voice her displeasure with Odd Future and the music world for its support of the controversial rappers.
Tyler, The Creator and the rest of Odd Future have caused quite a stir in the industry with music that has been labeled as revolutionary as well as revolting. The hip-hop collective has been touted by many as the genre's next big thing, but Quin argues that fans shouldn't overlook the group's incendiary lyrics full of rape and hate rhetoric.
Quin's post, "A Call for Change," not only discusses the rappers' offensive lyrics, but the lack of criticism the group has received as well.
Quin writes:
When will misogynistic and homophobic ranting and raving result in meaningful repercussions in the entertainment industry? When will they be treated with the same seriousness as racist and anti-Semitic offenses? …As journalists and colleagues defend, excuse and congratulate 'Tyler, the Creator,' I find it impossible not to comment. In any other industry would I be expected to tolerate, overlook and find deeper meaning in this kid's sickening rhetoric? Why should I care about this music or its "brilliance" when the message is so repulsive and irresponsible? …The inevitable claim that detractors are being racist, or the brush-off that not "getting it" would indicate that you're "old" (or a faggot)? Because, the more I think about it, the more I think people don't actually want to go up against this particular bully because he's popular. Who sticks up for women and gay people now? It seems entirely uncool to do so in the indie rock world, and I'll argue that point with ANYONE.
The Twitterverse has responded to the piece, starting the discussion that, as Quin pointed out, has been ignored up until now.
To read Quin's piece in its entirety, visit the Tegan and Sara website here.
Got news tips for Paste? Email news@pastemagazine.com.
Others Tagged With