The Scent of Green Papaya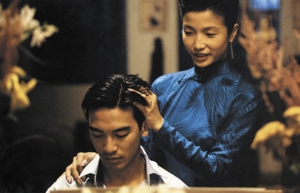 Director: Anh Hung Tran
Writer: Anh Hung Tran
Cinematographer: Benoît Delhomme
Stars: Tran Nu Yên-Khê, Man San Lu, Thi Loc Truong
Studio/Running Time: Kino Lorber, 104 min.
Due in great part to the longtime influence of Italian neo-realism, slow art films tend to be shot on location while studio shooting is associated with Hollywood. But that's not always the case, and the level of control offered by shooting in-studio is a bountiful arena for an artist like Tran Anh Hung to create a mesmerizing world of details nearly impossible to find elsewhere. His debut film, The Scent of Green Papaya, is an exercise in detail, letting the specificity of its frames create a time that no longer exists except in his memories.
Taking place in Vietnam during 1951 and 1961, Hung tells the simple story of a servant girl named Mui who works for a particularly tumultuous family. The family's father spends his time and money in brothels while its grandmother has refused to leave her room for years and the young children are brats, busy either tormenting Mui or the local wildlife. This first part the film focuses on Mui's discovery of her own identity and world that surrounds her. When the family can no longer afford to keep her, she begins working for a pianist she met while younger and their relationship gradually shifts to one of romance.
But the film's story takes a backseat to its minutiae of observation. The specificity of The Scent of Green Papaya is what sets it apart, moments that add little or nothing to the plot but as they accumulate give the feature a unique feel. It's a sensuous film, delighting in the textures and colors of the world it's created, one which feels true without the verisimilitude with any actual place. This works because the film doesn't attempt to recreate the world of mid-century Vietnam but instead shows us a dreamlike version of what it could be like, an enhanced reality that's enthralling to watch.
The journey undertaken by Mui isn't particularly compelling, and she has very little character. She's supposed to be part of the background to these larger-than-life personalities she's forced to serve, and so there isn't too much about her that sticks with you. But the world she inhabits does, and Scent of Green Papaya's warmth and beauty create a magical feeling that's more important than narrative. The film tells us little about Mui and her thoughts on Vietnam at the beginning of war, but this only opens it up to a deeper experience of the picturesque world Hung remembers losing.
Watch the trailer:

Others Tagged With