Yar's Revenge Review (XBLA)
[Killspace/Microsoft]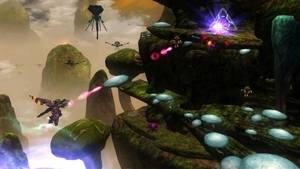 I've never been a particularly good dancer. I like dancing—well, whatever approximation of it exists on the kaleidoscopic floor of an electro synthpop show or at hipster house parties, anyway—but try as I might, I've just never been able to figure out how to coordinate my body with enough simultaneously complexity and dexterity to do much of anything interesting. I won't complain too much, since I can still knock back a few drinks and enjoy myself in such cases, and I'm fine with not being the most showy dancer on the floor. Still, if I actually stop and think about making my arms and legs move in complementary tandem, there's just something I can't quite wrap my head around. So I feel like George Bailey must have when he blindly danced the Charleston straight into a basement level pool in It's A Wonderful Life: foolish.
Granted, Bailey's case was an accident (though Jimmy Stewart was thought to be a little clumsy in his earlier days acting), but the fact remains that I'll never be able to stand up to anyone with even a modicum of skill in DDR. Rather than forcing me to learn the supposed synergy between movement and action, the disparity is for me almost like grappling unprepared with a foreign language. This is exactly how I felt when I started playing Yar's Revenge.
Yar's may look like a higher-fantasy Panzer Dragoon with a dash of Working Designs' mystical light-gun relic Elemental Gearbolt, but it plays more like a modern day third-person shooter, albeit an on-rails one. The control scheme seems basic enough: the left stick controls the movement of your Yar warrior, while the right aims your reticule. Evasive actions and attacks are mapped to the shoulder buttons, while powerups and shields are handled with the face buttons. Simple, right?
In theory, sure. Unfortunately, the layout will probably require you to realign some innate shooter muscle memory. The instinctual response with most arcade shooters is to move your targeting in tandem with your character's movement—either a remnant from on-rails' heyday or a response to the myriad dual stick shooters that have saturated the digital marketplace. With Yar's, though, the action is still on-rails, but your movement and targeting are handled both manually and independently of each other. Flying alongside your reticule is a surefire way to either miss a majority of enemy swarms or fly directly into a volley of crossfire you were trying to avoid; the inverse dance steps needed here create a backward choreography that is only compounded with the sheer amount of action running on-screen.
Design elements intended to assist battle rhythm aren't helpful, either. The Dragoon-esque lock-on is limited to your meager missile cache, and the reticule doesn't pick enemies up fast enough for it to be worthwhile in most cases. A powerful rechargeable rail-gun is good for picking off bigger enemies in your direct path, but it takes around five or six seconds to recharge—which feels like a year in this kind of routine. Power-ups barely make a difference, and should be saved for bosses. They're tough enough as it is, if only by measure of their high life meters. Don't be surprised if you find yourself simultaneously dodging attacks, holding down your basic fire, firing your rail gun at intervals and adjusting your aim accordingly in these scenarios. Needless to say, playing Yar's Revenge actually at times made my hands hurt.
It's not impossible to get the hang of Yar's' peculiar pattern systems, particularly once you train your brain to go of the reticule entirely, only moving it as needed. (You might even enjoy yourself, a little, fleetingly.) The game still doesn't give you that much to show for it, though. The six stage campaign will only take around four hours (if that) and, much like the story itself, the experience is completely surface level.
With its interesting design premise and sorely underused art direction, I really wanted to like Yar's more, but it doesn't do much more than remind me of a throwback to the Dreamcast era. You know the type: the import-only obscure Japanese-style action game, maybe ported from an equally obscure arcade run, a game that offers a neat premise and entertaining-if-shallow gameplay but still isn't worth the $80 you spent importing a copy. At least on the dance floor a drink might loosen me up and let me enjoy the moment—with Yar's I'm essentially just going through the motions.
Others Tagged With