AC/DC Can Calm Great White Sharks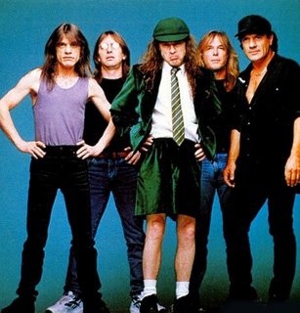 It seems great white sharks may actually prefer AC/DC track "If You Want Blood" to an actual bloody feast.
According to NME, Australian boat operator Matt Waller has been conducting experiments to determine how certain music affects the behavior of great white sharks. After pawing through his music library and playing tons of different songs to no avail, he hit the jackpot. He noticed that when he played AC/DC tracks, the ordinarily frenzied sharks became much more calm.
"Their behavior was more investigative, more inquisitive and a lot less aggressive," Waller said to Australian news outlet ABC news. "They actually came past in a couple of occasions when we had the speaker in the water and rubbed their face along the speaker which was really bizarre."
These sharks are responding to the music without even being able to hear it. Waller says that they are simply reacting to the frequencies and vibrations of the Aussie rock band.
"Sharks don't have ears, they don't have long hair, and they don't head bang past the cage doing the air guitar," Waller said to Australian Geographic.
So which album do they like best? Is it AC/DC's 1979 record, Highway to Hell? Or a piece off of 1981 hit, For Those About to Rock, We Salute You? Nope. Apparently the shark's top track is "You Shook Me All Night Long."
So next time you're at the beach, don't forget your towel, sunscreen and of course, a boombox with a copy of Back in Black in it. You never know when you're gonna need it.
Got news tips for Paste? Email news@pastemagazine.com.
Others Tagged With