It's Always Sunny Cast Reveals Season 7 Details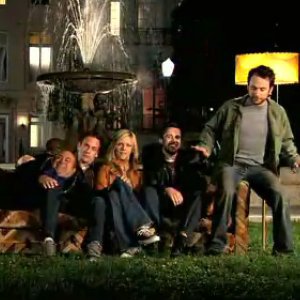 The gang is just a few months away from another season of outlandish antics.
The It's Always Sunny In Philadelphia cast told Screen Junkies that the seventh season will be the darkest in the show's history.
This time around we can expect Rob McElhenney, who plays the always overly-confident Mac, to put on 50 pounds for his character.
"It's been disgusting to watch him go through with this adventure,"Charlie Day told Screen Junkies. "We were a little on the fence about it for his own personal health and safety but it has definitely made Mac a lot funnier."
And the show will feature an array of random guest appearances this season.
Despite the public quarrel Kings Of Leon had with Glee creator Ryan Murphy, the guys are actually appearing on a Glee-esque episode of Always Sunny this season.
"Color me curious," McElhenney said. "They're not huge fans of 'Glee', but they're huge fans of 'Sunny'."
And in standard Charlie fashion, Day sarcastically hinted at another guest appearance.
"Pretty famous guy," Day said."Rhymes with 'Osama'."
Viewers can also expect a bigger role from Charlie's romantic obsession, the waitress, this season.
Some episode themes we can expect this season: the gang goes to the Jersey shore, Frank proposes to a prostitute Pretty Woman-style and to keep up with the ongoing craze, there will be an episode about child beauty pageants.
And as Day mentioned, "With 2012 coming up, we're gonna be tackling the apocalypse."
Surely, all these themes will incorporate some abhorrently selfish or subversive twist done in Sunny fashion.
The September premiere date is still TBD.
Got news tips for Paste? Email news@pastemagazine.com.
Others Tagged With