BBC Commissions Film About Life of Brian Controversy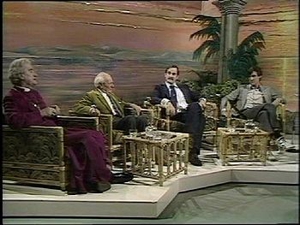 The BBC has commissioned a comedy-drama focusing on the controversy surrounding Monty Python's Life of Brian.
Released in 1979, the film is about a Jewish man named Brian Cohen who is born on the same day as Jesus Christ and is mistaken for the Messiah. The religious satire was highly controversial for the time, sparking protests and accusations of blasphemy from religious groups.
In a now-infamous debate, Monty Python members John Cleese and Michael Palin appeared on the BBC Two program Friday Night, Saturday Morning to discuss the film with broadcaster Malcolm Muggeridge and the Bishop of Southwark, the Right Reverend Mervyn Stockwood, who argued that it was an attack on Christianity.
Though it was also banned in several countries due to its contentious nature, Life of Brian went on to become a box-office success as the fourth highest-grossing film in the UK, as well as the highest-grossing British film in the United States, in 1979. It has since been named one of the greatest comedies of all time.
The BBC project will explore the controversy behind the film and incorporate Monty Python-style "surreal cutaways including puppetry and animation."
The 90-minute film, to be called Holy Flying Circus, will be written by Tony Roche (In the Loop, The Thick of It) and directed by Owen Harris (Misfits, Secret Diary of a Call Girl).
The cast will include Darren Boyd as John Cleese, Charles Edwards as Michael Palin, Steve Punt as Eric Idle, Rufus Jones as Terry Jones, Phil Nichol as Terry Gilliam and Tom Fisher as Graham Chapman.
"This is a smart and witty take on both the nature of censorship and the world of Monty Python," said Richard Klein, controller of BBC Four. "Tony Roche's script is both bold and entertaining, a wonderfully warm homage to one of the most original of British comedy teams."
Holy Flying Circus will be broadcast in the fall on BBC Four.
Watch a clip of the Friday Night, Saturday Morning debate below.
Got news tips for Paste? Email news@pastemagazine.com.
Others Tagged With