Jolie Holland: Pint of Blood
[Anti-]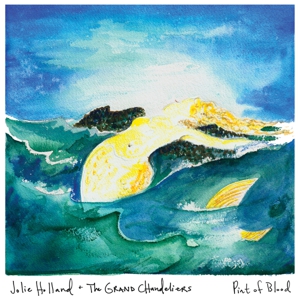 Listen to Jolie Holland's Pint of Blood in its entirety here.
"I can't believe you're treating me like all those girls," Jolie Holland sings early on her fifth album. "All those sweet girls go home to cry." You won't believe it either: The Texas-born, San Francisco-based singer-songwriter is unique among all those girls. With just the slightest hint of a Hill Country accent, Holland's dusky voice savors every syllable, turning familiar words into wholly new forms and making common words like "staying" or "sky" sound like exotic locales. And her lyrics take tough-minded, tougher-hearted stances on love and its loss, rarely wallowing in her pain but casting blame and recrimination with a smirk and shrug.
For nearly 10 years now, Holland has plumbed her Lone Star roots for arid country-folk songs full of evocative details and heady turns of phrase, but it wasn't until 2008's The Living and the Dead that the singing, the songwriting and the music clicked indelibly into place. Pint of Blood wisely picks up where that album left off, working in the same dusty sound but forgoing the Dia de los Muertos imagery. Co-producer and multi-instrumentalist Shahzad Ismaily returns to lend these songs an airy quality, as if you're hearing them in some ramshackle bar, and the newly christened Grand Chandeliers (Ismaily and guitarist Grey Gersten) range from the smoky speakeasy balladry of "The Devil's Sake" to the country ramble of "Wreckage."
In lesser hands, what makes Holland such a distinctive vocalist might also limit her range, yet she inhabits these songs confidently and dexterously, milking lines like "If disappointment was a drug, I overdosed again" with the right lump-in-your-throat mix of despair and humor. "Little Birds" nearly gets away from her, as she repeats the refrain "The littlest birds sing the prettiest songs" until it no longer sounds pretty or insightful. But it's the odd misstep on an otherwise assured album. Holland fares best on her album-ending cover of Townes Van Zandt's "Rex's Blues," which sounds spare and beautifully lonesome. Backed by a barroom piano with a stuck sustain pedal, she closes out the album with a desert hymn to her home state, relishing her woes and singing her woah-woah-woahs in a style that's unlike all those girls.
Others Tagged With