Keanu Reeves Writes Satire On His Sadness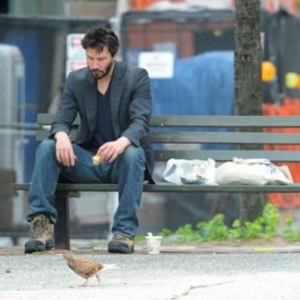 Keanu Reeves is embracing his internet-diagnosed depression.
With the help of his friend and illustrator Alexandra Grant, Reeves created a picture book of sadness.
He described the inception of the book, An Ode To Happiness, to The Guardian:
I was in my kitchen hanging out with my friend Janey, and the radio was on — and this station was playing, like, an orgy of depressing, self-pitying, nostalgic music. You know: 'I'm so lonely and I've been left and my heart is broken.' It was so voluptuously horrible. And I just started to write on this piece of paper, because I had this image of, you know, that moment when you take that bath, you light that candle, and you're really just kind of depressed. And it was making Janey laugh so hard, I just kept going, piling on the self-pity.
The pages of the book are mostly barren, save for a blotchy black ink image that is made to look tear-streaked, and at the bottom of the pages are grossly exaggerated statements of anguish.
The first page says, "I draw a hot sorrow bath," and the second says, "In my despair room."
The commotion surrounding Reeves' mental state came about when a photo of him surfaced looking very glum. After that, he even had a "Cheer Up Keanu Day," in his honor.
And he's already thinking about a sequel.
I'm considering another idea I call 'Haikus of Hope.' Basically like, 'I want to kill myself,' and go from there. Going into such a dark place that you can somehow surprisingly find the light at the end of the tunnel — but a nice end of the tunnel. Not the end of the tunnel.
Got news tips for Paste? Email news@pastemagazine.com.
Others Tagged With