Listen to a New Song from YACHT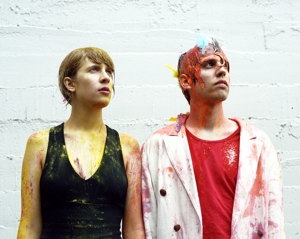 In March, Jonah Bechtolt and Claire Evans, who make up the bizarrely addictive electronic duo YACHT, released "Dystopia (The Earth is on Fire)," a disco-esque number about Armageddon. Now, the group has released the song's appropriately titled companion track, "Utopia," which was unveiled via the band's cryptic website accompanied by the following statement.
Today, our new single, "Utopia" is released out into the world. A companion piece to "Dystopia (The Earth is on Fire)," "Utopia" emphasizes a core idea of the YACHT philosophy, which is that any personal success is designed first in the mind..We couldn't emphasize this more: everything you once imagined is true, but impermanent. Our song, "Utopia," presents the future as a blank slate that can be molded to temporary Utopian experiences with a simple act of will. No matter how clear our plans for the future, how concretely we design our social communities around the ideologies that drive us, there's nothing there but blank potential at best, and a horrific void at worst. The future, and hence any aspiration to future paradise that we can define, is an oppressive absence of place, and by definition a failure, because all we have to count on is the present moment.
Listen to the track below.
Got news tips for Paste? Email news@pastemagazine.com.
Others Tagged With