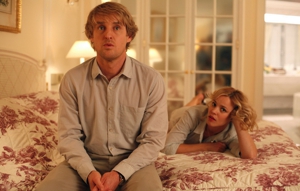 Director: Woody Allen
Writer: Woody Allen
Stars: Owen Wilson, Rachel McAdams, Michael Shannon, Kathy Bates
Studio: Sony Pictures Classics
Owen Wilson's dudeness and a daring plot twist serve Woody Allen well.
Late-era Woody has been an interesting phenomenon to watch, as his occasional hits (Vicky Cristina Barcelona) and stupefying misses (Scoop) come hard on each other's heels. This year's offering in his recent "Cities I Have Loved" series is set in Paris, and of course, given the setting and the auteur, is a heady love story. But more importantly, Midnight in Paris is also an exploration of nostalgia, the artistic impulse, and even happiness itself. It's an entertaining and sometimes hilarious film that belongs squarely in Allen's "hit" column.
It's also a very difficult film to write about, as there's a major plot twist not far into the movie, a plot twist that the filmmakers have taken great pains to conceal from the public. Until recently, the Midnight in Paris IMDB page lacked names for many of the characters, and the twist isn't explained or even alluded to in the film's trailer. In the spirit of respecting their judgment of how one can best appreciate the movie, perhaps it's best not to specifically reveal it here. Suffice to say that in the hands of a lesser director (or even in those of Allen himself, at his weaker moments), the twist would be cloying and cringe-inducing, but Allen makes it work well.
The cast is, for the most part, exquisitely chosen. Rachel McAdams' natural (and considerable) charm and charisma are a perfect counterpoint to her character, who in her unlikeability actually recalls Billy Zane's ridiculous cad in Titanic. The part as written needs some balance, but in McAdams, Allen got all the likeability he needed simply from his casting choice. Michael Sheen is a different kind of cad—the pedantic know-it-all that is so fun to hate that it'd be a shame to give him any redeeming qualities. Other standout performances, ones I can't reveal too much about, are turned in by Marion Cotillard, Kathy Bates, and Corey Stoll in a pitch-perfect career turn.
And against all odds, Owen Wilson turns out to be an excellent choice for the Allen-esque protagonist (Woody, of course, seldom writes any other type). Wilson seems to project a goofy thoughtfulness naturally, and it softens the edges of Allen's neurotic writing and draws the viewer in. Unlike many of Allen's protagonists, we're really rooting for Gil. Combine that with a daring concept, a charming supporting cast, and some classic Allen zingers, and you've got an ideal summer confection for the film buff set.
Others Tagged With