Paste Magazine Returns with New Weekly Digital mPlayer!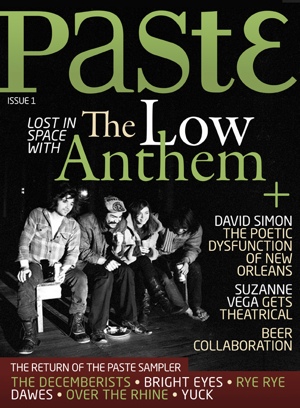 Plenty of magazines have announced a re-design, but never one quite like this. Launched today, Paste magazine's new mPlayer opens doors for the integration of visual and audio content and reader/social interaction in ways that were impossible through print. The mPlayer is now available in a Beta Preview, until early September, when the web-based mPlayer becomes a paid subscription platform available to all consumers, with native apps for iOS and Android also in the works.
The mPlayer delivers a new issue of Paste every week, and heralds the return of the acclaimed Paste New Music Sampler, now seven weekly downloads paired with editorial features. The debut issue includes free songs from Bright Eyes, Dawes, Rye Rye and an exclusive live track from The Decemberists.
mPlayer also welcomes back the long-form journalism for which Paste garnered three consecutive National Magazine Award General Excellence nominations. However, these long-form pieces are now coupled with exclusive visual and audio content. For example, in the deubt issue of the mPlayer, a piece on The Low Anthem also contains a video tour of the band's cathedral-like studio and a song from the band's latest album Smart Flesh.
"We decided to resurrect the magazine electronically, but rather than just pretending that a computer screen, tablet or mobile device was a piece of paper, we wanted to start from scratch and reinvent what a magazine could be in digital form," said Tim Regan-Porter, Paste's president.
Paste editor-In-chief Josh Jackson adds, "When we launched the print magazine in 2002, we included the sampler CD so our readers could experience the music we wrote about. The mPlayer takes that original idea to the next level with an intuitive, integrated experience."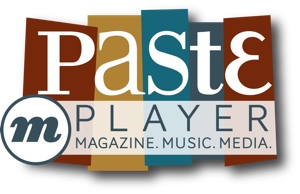 Advertising in the mPlayer will appear later this summer. "In the age of instant-everything, a monthly magazine doesn't make sense, and so by being weekly, we can serve our readers as well as offer unique single-sponsor advertising options," said Nick Purdy, Paste's publisher.
In September of 2011, each weekly issue of the mPlayer will sell for 99 cents per issue or $36 for a yearly (48-issue) subscription.
Paste's re-emergence was made possible through the support of Norton LLC, who acquired the assets of Paste Media Group in January of 2011. Norton also operates ConcertVault and Daytrotter. Content from both sites will appear in mPlayer, including a weekly song download from Daytrotter.
Check out the mPlayer now and visit the FAQ for more information.
For interviews with the founders of Paste, please call Mark Ballard at 212-680-0179.
Paste is one of the most acclaimed voices in entertainment journalism and analysis, whose coverage has resulted in four National Magazine Award nominations, dozens of Plug, Folio and Gamma Awards and endorsements from USA Today, The NY Daily News and The Wall Street Journal, who called Paste "the finest among American music titles." The more than one-million monthly unique visitors at PasteMagazine.com comprise a highly engaged and devoted audience of entertainment lovers hungry for authenticity and creativity, looking to discover the best of what's next in music, movies, TV, books and video games. As Utne says, "Paste brings together the best elements of the mainstream and indie press."
Got news tips for Paste? Email news@pastemagazine.com.
Others Tagged With