Wakarusa Music & Camping Festival Report and Photos: Day 3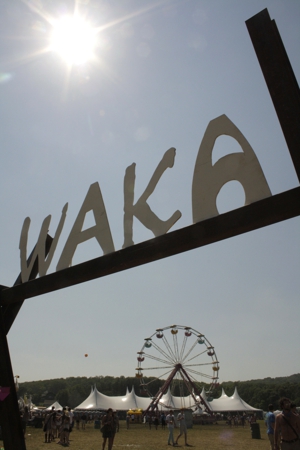 One of the things that sets Wakarusa apart from other music festivals is its location. Bonnaroo is held in a giant field in Manchester, Tenn. Lollapalooza takes place in Chicago's Grant Park. But the Wakarusa festival grounds make their home on top of a mountain in Arkansas's Ozark region. It's a camping festival where you actually feel like you're on a camping trip rather than just sleeping in a tent in between concerts.
Aside from the visual aesthetic this beautiful, natural landscape provides, it offers several other perks as well. The first is shade. As I've mentioned before, the heat is one of the most dangerous aspects of a music festival. At Bonnaroo, there is little-to-no shade, and the few areas of cool darkness during the day are usually swarmed with people trying to get a break from the sun. However, at Wakarusa, there are trees everywhere. Several of the campgrounds and even stages are located a ways into the forest.
If the trees don't keep you cool during your stay at Wakarusa, the Mulberry River sure will. After waking up on Saturday at the insistence of my old friend, the sun, I decided a dip in the river might be just the thing to rejuvenate me for the remainder of the festival. The walk to the river shuttle was fairly short, but then I had to wait in line for about an hour before I could actually get on the bus. It seems I wasn't the only one with this bright idea.
It wasn't until I was almost to the shuttle that I realized that I hadn't had anything to eat that day. But I brushed the thought away, telling myself I would get some scrumptious festival food after the river. This, coupled with the fact that I also wasn't doing a very good job of staying hydrated, would get me into trouble later.
The Mulberry River, once I finally got there, was splendid. It was everything I hoped it would be: cool, refreshing, calm. Despite losing my sunglasses in the current, it was easily the best non-musical experience of the entire festival. But once I had cooled off, it was definitely time to see some bands.
I headed back up the mountain to catch the first act on my list — Mumford & Sons. I have been a fan of the band from the moment I saw the music video to "Little Lion Man," just as they were beginning to garner widespread attention. But until Wakarusa, I had never gotten the opportunity to see them live. Needless to say, I was pretty excited.
To beat the line for the shuttle, I caught a ride with a few other passengers in the back of a pick-up truck. I made my way into the main stage area, bought some chicken on a stick and got a good spot before the show started.
That's when the trouble started.
I started feeling faint, and continuing to stand up became rather difficult. I took a seat in the dirt while a friend began handing me bottles of water. It wasn't until later that I would realize how out of it I really was. My friends kept asking me if I wanted to leave, and go back to the campsite, but I was determined to stay. I had been anxiously awaiting this concert for a while, and I wasn't about to let a little dehydration get in the way.
But hydration is a very serious matter, particularly at a music festival. I've always made a big deal about drinking a lot of water at festivals, but on the third day of Wakarusa, I did a poor job of taking my own advice. Luckily, I had friends around to take care of me, otherwise I could've been in very serious danger. However, my little bout of sun sickness seriously affected my ability to enjoy a show I was really looking forward to.
Shortly after the performance, I started to gradually feel better. Next up was Ben Harper & Relentless7. I listened to Ben Harper a lot in high school, but aside from a few spins of the Fistful of Mercy album he recorded with Dhani Harrison and Joseph Arthur, I really hadn't stayed caught up with his recent musical pursuits. I didn't know what to expect from the performance, but I was looking forward to a good night show.
Initially, I was pretty surprised by the band's stage dynamic. Despite Harper's name receiving top billing, the musicians really seemed to be on equal footing on stage. For most of the performance, the Relentless7 did not at all feel like a simple backing band. The group plays very well together, bouncing riffs off one another and driving the songs home as a team. It's a dynamic that works very well, and one that is far too often neglected by egotistical celebrity-musician-led bands.
The performance ended up being perfectly deserving of the headlining slot it was given. Fun and full of energy, the set didn't discriminate against fans new or old. After opening with the fan favorite "Burn One Down," Harper & Relentless7 got the crowd moving early on with just the right amount of jam band flare one comes to expect even from non-jam bands at a music festival. Harper, in particular, spent the majority of the show sitting down in a chair, going to town on his lap steel guitar with the ferocity of steel guitar contemporaries like Robert Randolph. But before too long, the Grammy Award-winning musician began working in slower songs from his early career. Don't judge me, but as soon as I heard the first few acoustic notes of "Walk Away," I was transformed into my angsty teenage self.
I closed the night down with the downtempo grooves of Thievery Corporation — the perfect end to a thoroughly exhausting day. I sat down pretty close to the back so I could relax and just let the music wash over me. I wasn't close enough to really see the band, but I could distinctly make out the speedo-clad bassist, funk walking from one side of the stage to the other.
I went to bed earlier Saturday night than I did any other night at the festival. But I definitely needed it. Lying on top of my sleeping bag, I could easily hear the Sound Tribe Sector 9 performance growing in intensity. It may have been the most non-traditional lullaby ever played, but before I knew it, I was out like a light.
Others Tagged With