Beats, Rhymes & Life review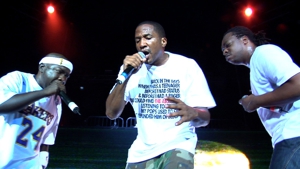 The best music documentaries offer us mere mortals something "average" that we can relate to while marveling at how these musicians grow into their greatness. In No Direction Home a 10-year-old Bob Dylan's listening of "Drifting Too Far from the Shore" gives him a sense that he was born into the wrong family. In The Beatles' film Let It Be the rawness of the recording sessions reveal moments of typical family squabbling, as when an exasperated George Harrison tells Paul McCartney, "I won't play at all if you don't want me to play." In Beats, Rhymes & Life: The Travels of A Tribe Called Quest director Michael Rappaport bangs all those relatable buttons and more, making a band documentary that will please the music purists and the mainstreamers alike.
A Tribe Called Quest's best albums were released in the 1990s, so not everyone is familiar with the story of Q-Tip, Phife Dawg, Ali Shaheed Muhammad and Jarobi White and their impact on many of today's biggest rap artists. Songs like "Can I Kick It" and "Bonita Applebum," however, have now become signature. Rappaport takes us back to when the genre was hitting the streets of Queens and the young bandmates were, perhaps unknowingly, breaking new ground. He follows Q-Tip into his old school where he playfully demonstrates how he would use his desk as a rhythm instrument. But just as interesting as their rise are the backstories, like Jarobi's decision to walk away from the band's success to chase a different dream and Phife's battle with a serious health problem.
Most of the passion and controversy of the film comes through Phife and Q-Tip with their face-to-face disputes and behind-the-back slams, giving the film some of its best moments. Q-Tip sagely says, "The hardest part about being in a group is constantly considering someone else, even before yourself." It's an old, but always intriguing, storyline that history has seen many times before, whether with Lennon and McCartney, Rodgers and Hart, or Gilbert and Sullivan.
It has been said that the band members weren't entirely happy with Rappaport's finished product. Given the tension on screen, it's easy to see why. But that is what makes Beats, Rhymes & Life so compelling. It tells a real story that is both complex and coherent, putting ATCQ's impact on the level of what Dylan and The Beatles provided in their respective moments in musical history. And the argument is well made.
With a hundred hours of film to edit, it would have been easy for Rappaport to get lost in the tunes and bypass the angst. But the music is greatly abridged. After all, this is not a concert film. It's an account of a band's rise and fall in the death-defying world of popular music.
Others Tagged With