Bette Midler Accuses Lady Gaga of Stealing Her Wheelchair Mermaid Act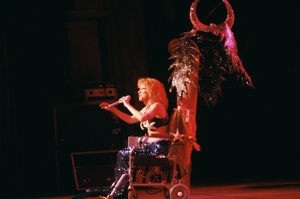 Apparently, wheelchair-bound mermaids are relatively easy to come by these days.
Last month, a group of angry Australian activists hurled eggs at Lady Gaga in response to an earlier concert in Sydney where the singer, dressed as a mermaid, rolled around the stage in a wheelchair.
Gaga has christened her newest alter-ego "Yuyi the mermaid." Now Bette Midler's weighing in, claiming that Gaga stole the character from her earlier performances.
Midler points to her own wheelchair-bound scaly character, Delores Delago, as proof that Gaga has blatantly ripped off her bizarre stage persona.
In a recent tweet, Midler says, "Dear @ladygaga Ive been doing singing mermaid in a wheelchair since 1980-You can keep the meat dress and the firecracker tits-mermaid's mine."
Gaga has yet to respond to Midler's accusations, but the Beaches star has since cooled off, tweeting, "@ladygaga, let's drink this over at the Emmys in September. Fabulous mermaids can coexist!"
Got news tips for Paste? Email news@pastemagazine.com.
Others Tagged With