Eleanor Friedberger: Last Summer
[Merge]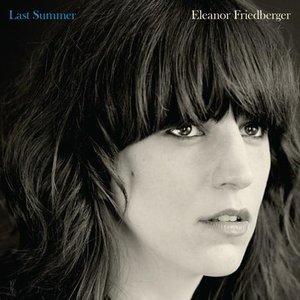 A welcome relief from The Fiery Furnaces' spontaneous ad-libbing and warped song structures, Eleanor Friedberger's seductively husky vocals are easily the most accessible aspect of the duo's live performances. Opposite her brother Matthew, Friedberger's work with the group is dizzying; imitating a Tilt-A-Whirl with its tendencies to throw-out the familiar rules of tempo and pitch. But after delivering a string of difficult to decipher albums (2005's Rehearsing My Choir was a piano opera featuring the siblings' grandmother on vocals), 2009's I'm Going Away delivered previously intimidated listeners a gift in the form of a more accessible release, utilizing Friedberger's at times hidden vocals by cutting back on the complicated noise.
Taking a cue from the duo's last record, Friedberger's first solo LP pairs the artist with Merge and is about as straight-forward and pretty as anything she's ever released, providing listeners with toned-down and bouncy tracks worthy of windows-down sing-alongs and repeated listens. But Last Summer is not completely lacking in the bizarre; the record's success lies in its ability to play up the way Friedberger meshes her speedy and borderline spoken-word verses with rich choruses, full of the keyboard-driven lines that make the quirky songstress' brand of pop distinctive.
"My Mistakes," along with its accompanying video, has been making its internet rounds for the past month or so, and it's easily the LP's catchiest number, tossing saxophones into a sonic playground that keeps things pleasant by resisting the urge to reach for the extreme. "Inn of the Seventh Ray," curiously named after a California restaurant, explores Friedberger's darker side, taking a psychedelic approach with its mysterious and sluggish pace, while "Scenes from Bensonhurst" recalls the singer's Fiery Furnaces material, meshing busy lyrics with well-proportioned accompaniment.
Perhaps the biggest hurdle for Friedberger's solo endeavor will rest in separating herself from the past nine LPs she's released with her brother, but Last Summer succeeds on its own, casting a softer light on the singer's chaotic image.
Others Tagged With