EXCLUSIVE: Fanfarlo's Simon Balthazar Talks New Album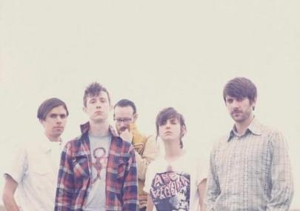 With the 2009 release of their album Reservoir, London-based Fanfarlo became the next indie act to look out for. The band even saw their work featured in several television shows and films.
Now, the group has been working on the follow-up to Reservoir with producer Ben Allen, who's worked with the likes of Animal Collective and Deerhunter.
"We really liked Ben's style," said Simon Balthazar, Fanfarlo frontman. "We must have talked to a dozen different producers, but it really worked out [with Ben]. He's a really great guy, he had just really good ideas. We definitely got the most out of each other."
Balthazar and his band mates recently wrapped up recording their new album with Allen, and are expecting to release it in early 2012.
"It's been a long, pretty intensive process," said Balthazar. "We just came off the road in September, so we just kind of sat down, wrote an album, went and recorded it in the studio in the countryside in Wales."
The group spent five weeks recording, said Balthazar, and just finished mixing.
"And now comes the hardest bit, which is to name it."
Balthazar said deciding on the title and artwork, though it's proving difficult, has been a fun process. "We've spent a lot of time watching early avant-garde cinema from the early 60's," he said. "We're leaning towards early modernism and art deco inspiration."
The songs themselves also draw inspiration from past eras. Fanfarlo's next record, according to Balthazar, will jump from folk influences to more pop sounds, taking ideas from the punk decades.
"I think our first record was quite folky, and we sort of went poppy for this record," he said. "There are influences from like the late 70s, early 80s, punk and post-punk. A lot of that experimental stuff."
While Fanfarlo awaits their 2012 release, they've been recording several B-sides, as well as a potential EP. The group is also talking to directors of photography for music videos.
Fanfarlo fans can hope to see the group on a small tour later this year.
"I think it will be just a short [tour] in the U.K. and a short one in the U.S., and I think we have some stuff booked in Spain," said Balthazar. "I think we need to get out and play this year because we've been off the road for a while. But at the same time, I would want people to have a chance to listen to what we've been up to, to get on the same wavelength before we embark on the real tour."
Got news tips for Paste? Email news@pastemagazine.com.
Others Tagged With