James Franco Sells $10,000 Piece of Non-Visible Art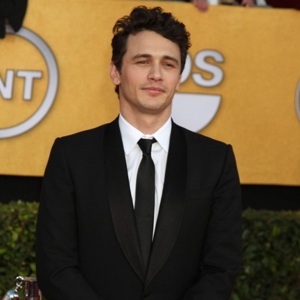 Last month, the increasingly bizzare man-of-the-moment James Franco announced his involvement in a new large-scale art project with the conceptual art duo Praxis (Brainard and Delia Carey). Not necessarily a shocking move, but Franco's venture gets better—the art is "non-visible."
The project is called the Museum of Non-Visible Art (MONA) and according to its Kickstarter page, the collaborative effort is,
An extravaganza of imagination, a museum that reminds us that we live in two worlds: the physical world of sight and the non-visible world of thought. Composed entirely of ideas, the Non-Visible Museum redefines the concept of what is real. Although the artworks themselves are not visible, the descriptions open our eyes to a parallel world built of images and words. This world is not visible, but it is real, perhaps more real than the world of matter, and it is also for sale.
Franco and Praxis also warn that, "When you contribute to this Kickstarter project, you are not buying a visible piece of art!" Yes, after contributing real money, buyers will not receive any tangible piece of art and will instead by presented with a written description of their purchase.
With prices ranging from $1000 to $10,000, you might ask yourself, "who would actually willingly donate money for pretty much nothing?"
Answer: Montreal web producer, social media marketer, model and actor Aimee Davison.
Davison dished out $10,000 for the conceptual piece "Fresh Air," which is described as,
A unique piece, only this one is for sale. The air you are purchasing is like buying an endless tank of oxygen. No matter where you are, you always have the ability to take a breath of the most delicious, clean-smelling air that the earth can produce. Every breath you take gives you endless peace and health. This artwork is something to carry with you if you own it. Because wherever you are, you can imagine yourself getting the most beautiful taste of air that is from the mountain tops or fields or from the ocean side; it is an endless supply.
In regards to her purchase, Davison explains,
It's been several days since I bought "Non-Visible Art" from Praxis Art and James Franco for $10 000. Some may call it a scam, but I call it patronage of Social Media Art.
Franco's "Non-Visible Art," enabled by the social media funding platform Kickstarter, embodies what I think can be termed "The Social Media Art Movement". The Social Media Art Movement is the use of new media to create and launch projects online, produce traditional and social media buzz, and establish cultural and economic value, principally by entertaining the public with a novel idea or narrative.
Watch the Kickstarter video for MONA below.
Got news tips for Paste? Email news@pastemagazine.com.
Others Tagged With