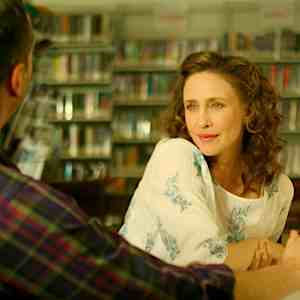 Blending bell-bottoms and Bibles can be dangerous. But for a fleeting moment in the 1970s, "Jesus Rock" wasn't a joke. It was a genuine movement fueled by ringing guitars and fervent faith. Who would dare to recreate hippies getting baptized at the beach? First time filmmaker Vera Farmiga invites us to wade in the water with the original Jesus Freaks. Higher Ground is loaded with groovy original music. It's also an honest exploration of flawed but beautiful characters. In a masterful directing debut, Farmiga gets the tone and tenor of the Jesus People remarkably right.
Higher Ground works as a poignant, personal history, based upon Carolyn S. Briggs' This Dark World: A Memoir of Salvation Found and Lost. Named Corinne in the film, Briggs' journey from naïve Iowa schoolgirl (and pregnant bride) to born-again mother embodies an overlooked era in American religious history. The details of faith (like The Way edition of the Bible that Corinne and her rocker husband read) are spot on. It's about a confused young couple finding a place in a religious commune. Corinne experiences a few flashes of genuine joy. But there isn't enough room for her questions. She bristles at the mostly male authority imposed upon her. Despite the abundance of music within their worship services, Corinne hears no affirmation of art, literature, or ideas. Her only solace comes from her best friend, Annika. Dagmara Domincyzk brings such vitality to the role, offering frank talk about sexuality and adventure that Corinne desperately needs. How great to see a female friendship filled with warmth, intelligence and humor onscreen.
Released on the heels of a cultural phenomenon like The Help, Higher Ground may be overlooked, but a generous, indie spirit animates this film. Its ambitions exceed its budget. Like The Help, it's a historical drama that features fabulous roles for women. Performances by Vera Farmiga and her sister, Taissa (as young Corinne) deserve Oscar consideration. Fire and desire reside behind faces that echo Botticelli's Madonna. Following his harrowing turn in Winter's Bone, John Hawkes is underutilized playing Corinne's alcoholic father. As earnest, but frustrated husband Ethan, Joshua Leonard soars beyond his work in The Blair Witch Project and Hump Day. Here his rock-star delusions dissolve into middle-age malaise. As a faithful follower, why doesn't God answer his prayers and dreams? Anger lurks beneath a surface of praise.
When Annika is crippled by cancer, Corinne's blessed assurance starts to unravel. The vexing question of why bad things happen to good people rises to the fore. Yet Higher Ground never condescends. It treats religious faith with respect, as something complex, messy and real. Only an overzealous pastor's wife and a horrific therapist earn our well-deserved ridicule. They demonstrate why some kinds of Christianity have been so soul crushing to artists and women (especially women who are artists like Carolyn Briggs!). What could have descended into a rant comes across more like a prayer of desperation.
Farmiga stepped into the director's chair only when the project seemed destined to fall apart. She didn't want to see the subtlety inherent in Briggs' writing mishandled. She opts to humanize rather than demonize. We catch a glimpse of why people take a leap of faith and why such commitments are difficult to maintain. Higher Ground plumbs motivations, but also preserves mystery. With a polarizing 2012 U.S. presidential campaign ahead, Higher Ground feels like a refreshing and brave attempt to chart a middle ground. Art-house audiences that find evangelicals odd and threatening may find themselves strangely moved. And religious filmgoers may be surprised to enjoy an R-rated film that discusses sexuality and spirituality so frankly. But all Americans desperately need a place and space to discuss the beliefs that move us, shake us and scare us.
A powerful ending suggests that Corinne's self-awakening may yet be reconciled to her ongoing spiritual yearnings. During a poetic post-screening conversation at the Sundance Film Festival, Farmiga described Corinne as "not broken down, but broken open." To the director, "She's not ridding herself of faith—she's ridding herself of an impoverished faith." We could all use a double shot of that kind of love. Signs of life abound in Higher Ground.
Others Tagged With