Karen O Reveals Details of "Psycho Opera"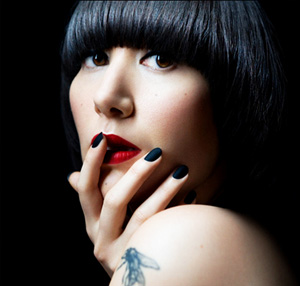 Although it's been about a month since Yeah Yeah Yeahs frontwoman Karen O announced her plans to work on what she described as a "psycho opera," she has finally pulled the curtain back and shed some light on the project's details.
As part of a series of events helmed by The Creators Project, O's opera, titled Stop the Virgens, will debut Oct. 12 in Brooklyn's St. Anne's Warehouse and run through Oct. 22. It has also been revealed that actress Lili Taylor will be involved, as well as longtime Beastie Boys DJ Money Mark and members of The Greenhornes and The Raconteurs. (It's unclear whether Jack White counts as part of the latter.) As for the music itself, O has been collaborating with Spike Jonze's brother Sam Spiegel and fellow Yeah Yeah Yeahs bandmate Nick Zinner.
Though she's being somewhat tight-lipped about the finer details and message behind Stop the Virgens, O did mention in a prepared statement that it will be a "psychedelic ride laced with catharsis" and placed extra emphasis on the high emotional content involved with the production. She promised it would still be fun "escapist entertainment" but would still include plenty of risk-taking, challenging moments that aim to directly engage the audience (which she likened to "a few sucker punches to the gut").
Got news tips for Paste? Email news@pastemagazine.com.