London Riots Attack Independent Music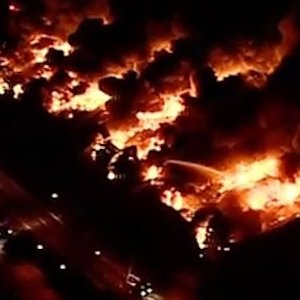 Poet and musician Scroobius Pip described the London Riots best.
"This is Britain punching itself in the face. Repeatedly."
And yesterday morning, the civil unrest in Britain took an even sadder turn when the banshees decided to take out their frustrations on the SONY DADC warehouse in London.
The warehouse was the manufacturing mothership to the stock and catalogs for PIAS' 150 labels, including Matador, Sub Pop, FatCat and Domino Records.
Most of the labels affected will see insurance reimbursement within the next two weeks, but it's the smaller labels who will suffer active distribution loss in that time span.
FatCat Records, who represent artists like Animal Collective, Frightened Rabbit and No Age, issued this statement: "The warehouse was the primary stock holder for over 150 independent labels of varying size, including FatCat and our sister label One Little Indian. Unfortunately, due to the damage to the building and the sheer size of the fire, the likelihood is that all of FatCat's stock housed at the warehouse is lost. We'd like to extend our thanks to everyone who has offered their support and kindness, as well as our sympathy and solidarity with the other labels affected."
Just like land disasters cause financial ruin, the damage to an art form has stirred citizens to act as well. Now, Labellove has launched a campaign to raise money for those affected by the flames.
While the website is still in its beta state, they have a PayPal feature that allows music lovers to donate to the cause.
According to The Guardian, Dan Salter, one of the campaign organizers, said, "We've been amazingly inundated with offers of help and support on this idea, and we are going to concentrate on trying to organise a series of live events to help this cause. Based on the offers we've had already, this is looking likely."
And Drowned In Sound founder Sean Adams is offering his support. "I'm compiling a spreadsheet with data for web developers to help the affected PIAS labels. Anyone fancy helping me fill it in?"
Artists are also ushering consumers to make digital purchases while the labels assess the damage and get back on their feet.
There's a good chance at least one of your favorite artists is represented by a PIAS label. If you don't have the means to offer fiscal support, the current trend is to tweet words of encouragement at #labellove.
Got news tips for Paste? Email news@pastemagazine.com.