Neon Indian Unveils New Song, Offers Mini-Synth with New Record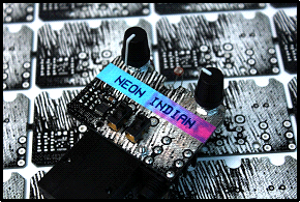 Neon Indian (a.k.a. Alan Palomo) has teamed up with Bleep Labs for a deluxe package that lets fans make some music of their own. They've created the PAL198X, a special mini-synth made specifically for Palomo's upcoming LP, Era Extraña.
Palomo had this to say about the synth:
"It's a triple triangle-wave oscillator noisemaking device with interchangeable controls for maximal sonic contortion. You can attach knobs, light-reactive photocells, and a variety of other devices for semi-modular capabilities. It can interact with a variety of objects around your house whether electronic in nature or not. It can even interact with your pet. It does not make the same sound twice. Basically, I want you to hack this fucking thing."
The price isn't bad either. A mere $50 gets you the 12 vinyl, the CD, the custom synth, a T-shirt and an autographed poster.
And if you haven't gotten your fill of Neon Indian news already, he's also released the track list for the album and unveiled a new song on NPR. Check out both below, along with a sample of the custom synth.
Era Extraña
1. Heart: Attack
2. Polish Girl
3. Blindside Kiss
4. Hex Girlfriend
5. Heart: Decay
6. Fall Out
7. Era Extraña
8. Halogen (I Could Be a Shadow)
9. Future Sick
10. Suns Irrupt
11. Heart: Release
"Polish Girl"
PAL198X
Got news tips for Paste? Email news@pastemagazine.com.
Others Tagged With