Liam Gallagher Sues Brother Over Oasis Split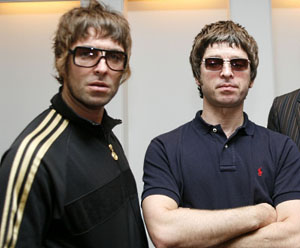 It seemed like Oasis' Gallagher brothers had exhausted every form of fighting they could come up with: The verbal, screaming fight, the talking-crap-through-the-press fight and the literal fist fight. But now, following 2009's breakup, the feuding brothers are going to duke it out in court.
Rolling Stone reported that Liam Gallagher, Oasis' former frontman, is suing his brother Noel for comments that he made about the band's breakup in 2009.
"I have taken legal action against Noel Gallagher for statements he made during the Electric Cinema press conference on July 6 during which he claimed Oasis pulled out of the 2009 V Festival Chelmsford gig because I had a hangover," Liam said in a statement. "That is a lie and I want Oasis fans, and others who were at V, to know the truth."
The singer goes on to insist the lawsuit isn't about cash, but an apology, stating:
"I am used to being called all sort of things by Noel and I have in the past said things about him, but what Noel has alleged this time went way beyond rock-and-roll banter and questioned my professionalism."
Noel Gallagher has not yet commented on the lawsuit.
Got news tips for Paste? Email news@pastemagazine.com.
Others Tagged With